Report
The 6th Ambassadors of Peace Network Report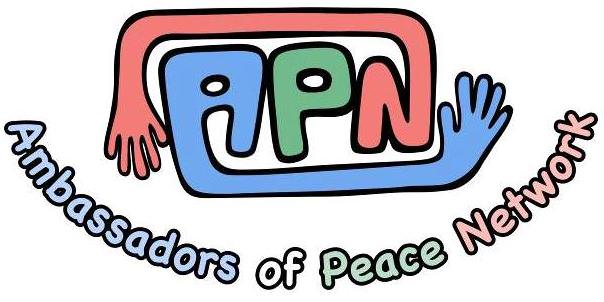 The 6th Ambassadors of Peace Network was successfully completed with 183 people from 19 different countries. These included EIC past participants, their family members, past Camp Leaders, Camp Staff, Instructors and Guests who gathered at the Kumon Hall in Shin Osaka on Sunday, 21st April 2013.
The 6th APN was another delightful event; where kids were involved in many roles and activities. These included Reception, MC and Dances among many other activities. Everybody was excited to see their old friends and Camp Leaders,at the same time made new friends at APN. This annual event aims to strengthen the EIC family spirit, participants motivate and encourage each other to achieve their dreams and work hard on their challenges. Each year there were presentations presented by past EIC participants; children and adults as well. This year's APN focused on the motivation to strive for their dreams through English. APN participants were overwhelmed and inspired by all the presenters with their outstanding presentations.
Comment from one participant:

"APN is a very good opportunity for me. I can meet and communicate with many people and learn many things. I want to do my best"
1. Presentations and sharing
6 past EIC participants stood out confidently giving their impressive presentations in English. That inspired and encouraged the audience to try their best for their dreams and challenges under the topics "My Dream" & "My Challenge". Every participant who came to the event also wrote their own dreams and challenges and brought it with them to share within their group members. Everyone was motivated and encouraged by the support given from the group members for them to continue to strive for their own dreams and challenges.
Comment from one participant:

"I learnt many things because EIC family did presentation about English, Tohoku and Africa. Now there are serious problems all over the world. I can't help the poor people all over the world. But I noticed that I can learn and think about it and make a small difference for them."
Comment from one participant:
"I am impressed with presentations. There are lots of opportunities around me. I want to use these opportunities for my future."
2. 2nd Tohoku Trip Presentation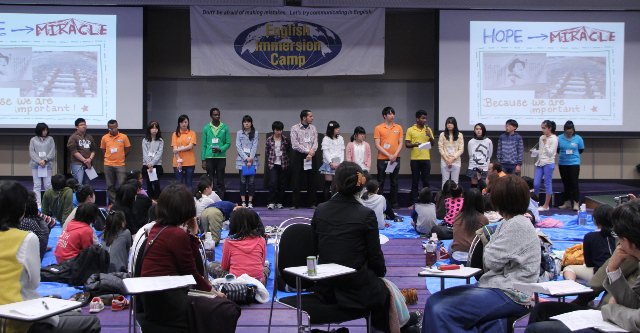 In March 26th – 30th, 2013, a group of 25 participants (which included 12 past EIC participants, 8 camp leaders, Dreamy Grandpa (Prof. Chiba Akihiro) and 4 Kumon staff) visited the 3.11 earthquake affected areas in Tohoku to see the present situation and take action. 7kids of the members went there last year to see the reality and reported at the APN event. This year too during the APN they shared with everyone their experience of what they had learned and what we can do to contribute to the recovery of Tohoku.
Comment from one participant:

"Tohoku trip presentation gave me the opportunity to think about Tohoku."
Comment from one participant:
"Tohoku trip presentation is very nice. We don't forget 3.11 and Tohoku."
3. EIC "Well Done Point" Result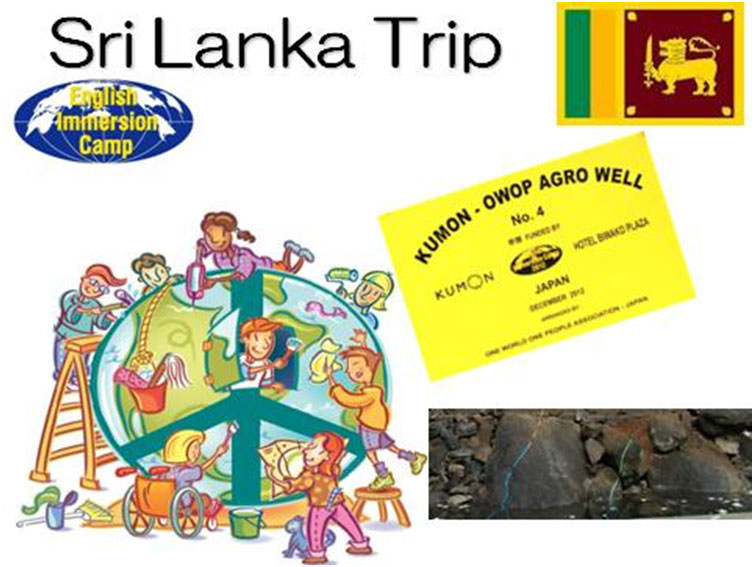 During the EIC 2012, the "Well Done Point" system was also implemented. This "Well Done Point" System encouraged the children to contribute to making the world a better place for everyone. As the result of the tireless efforts of the children and support from the camp leaders and the generosity of the Hotel Biwako Plaza owner and staff, the money that was collected from the well done points system donated to Pinnawala, a village in Sri Lanka to provide clean drinking water for the people. This year too we were able to donate and visited TERACO (a self-Learning Center) in Minami Sanriku town in Tohoku
4. "The World's Biggest Lesson"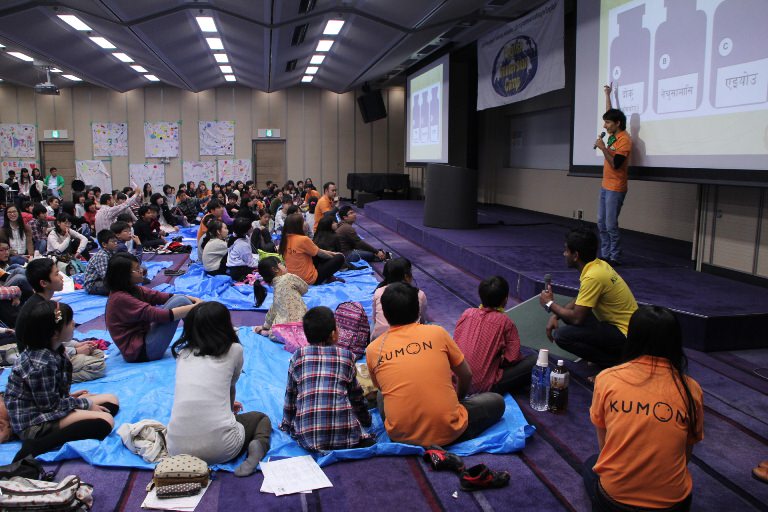 "The World's Biggest Lesson" is an event implemented by JNNE for people all over the world to learn about real situation of the world at the same time (during the same period to be exact). This event started in 2003 with the motto of 'Education for All'. In Japan, 502 schools and groups, totaling 55,485 people participated in 2012. This event is carried out in 100 countries in the world this year too.This was a new activity in this year's APN. In EIC, participants also learned about problems in the world and tried to take action. We believe that through small actions it can make a big difference to the world. So from this activity participants were not only able to learn something new but also reconfirm with themselves about the existing world problems.
5. Making APN together with participants as volunteers.
This year's APN was made even special with the help of the kids who participated in EIC from different years. They gave ideas, suggestions and took the initiative of planning and implementing APN activities such reception, MC, Dance and etc. Kids were not only able to gain many valuable experience but also enhanced their confidence while having fun too.
6. Take Action.
Since 2010, EIC participants have continuously taken action to contribute to the society. At this year's APN too we collected picture books and bottle caps. Thank you very much for all of your contribution.
As for the picture book which we have collected we will send them to the less fortunate kids in Indonesia. As soon as we deliver the picture books we will upload a report about it.
We still collect the picture books for less fortunate kids in developing countries. If you wish to contribute to the picture book project please refer to this link for more information: English Picture Book Project
The 6th APN was another meaningful and also important event which we could witness the growth and development of past EIC participants no matter which EIC year they graduated. Witnessing each individual growth and progress was the best reward for all the efforts contributed by EIC Family. We cannot wait to see everyone again next year!!