Report
2nd Global Network Initiatives (GNI) Report
Please have a look at the below Digest Video to hear what we talked about in GNI SOS!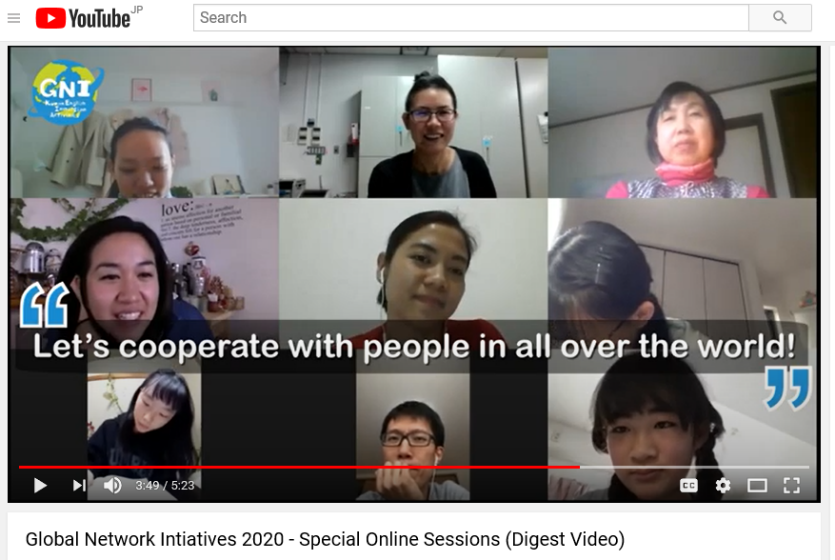 (Link will open in a new window – YouTube, and you can press "CC" for subtitles)
Global Network Initiatives (GNI) is an event where past EIC participants, Camp Leaders, and staff gather once a year. Unfortunately, in consideration of the COVID-19 situation in Japan as well as all around the world, we have decided to cancel the 2nd GNI event (supposedly held on Sunday, April 5th, 2020 at venues in Osaka and Tokyo). Instead, alternative Special Online Sessions (SOS) was swiftly arranged and held on Sunday, April 19th, 2020 with the participation of 12 EIC Past participants, 4 Camp Leaders and 10 Kumon members.
This year's theme: Environment – Take the Initiative and Give it a Try!
The objective was to think as an individual from a global point of view in order to implement this theme by sharing opinions about environmental issues around the world and discussing on how to protect the Earth.

Take the Initiative and Give it a Try!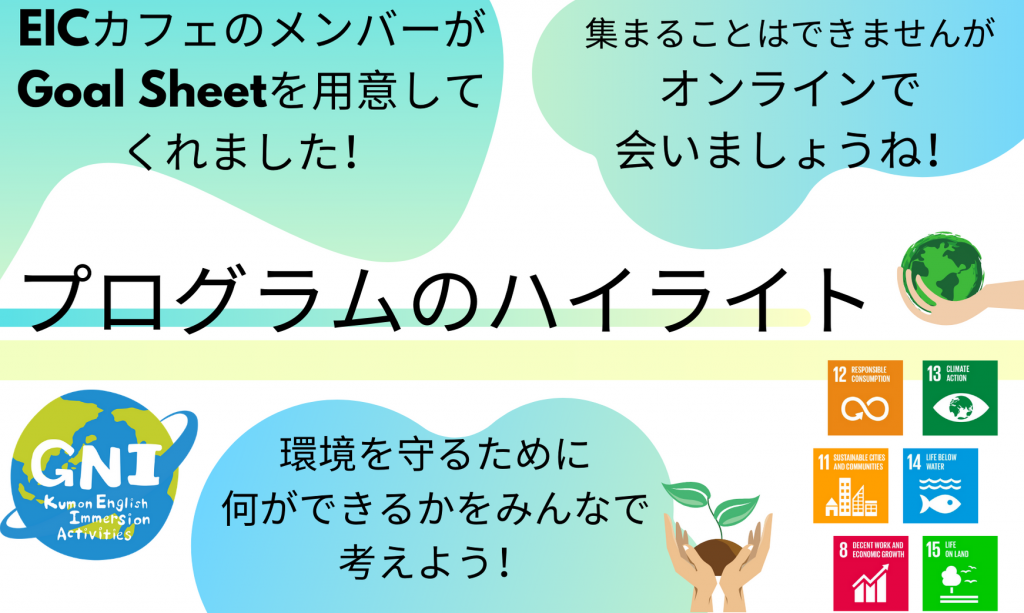 For the original GNI event day, we planned to hold different presentations from EIC family members on actions towards environment protection. We also cooperated with EIC family members to prepare a lot of activities for the day
Special Online Session
The GNI SOS was held on Sunday, April 19th, 2020, for participants to share about their opinions and what they are currently involved in. The participants who have joined were motivated to start taking other actions inspired by others. Looking at the current situation, utilizing online forms of communication has helped us reconnect in many ways. We hope that we can continue to inspire others through our actions and spread awareness towards the actions that we are currently taking. We were able to learn about what EIC Family members' are currently up to and what actions they are currently taking on as their new challenges!
Program Highlights
In preparation for th GNI event, EIC Cafe members helped us put together a Goal Sheet for EIC Family members to share with each other about the "Environment". Through the Goal sheet, we aksed EIC family members about:
★GNI 2020 Goal Sheet★ (Made by EIC Cafe)
What environmental issues do you know about? How do you feel about that?
Have you ever done some environmental activities? What did you do? How did you feel?
What can we do for the environment?
Though the GNI event was cancelled, many EIC family members still joined us in GNI SOS and sent in their goal sheets. The children and Camp Leaders mentioned about not only environmental issues within Japan and but also those in many countries around the world.
Please have a look at all the goal sheets from EIC Family members below:
Daniel (EIC 2019) Camp Leader from Ecuador would also like to share with you about his Goal Sheet.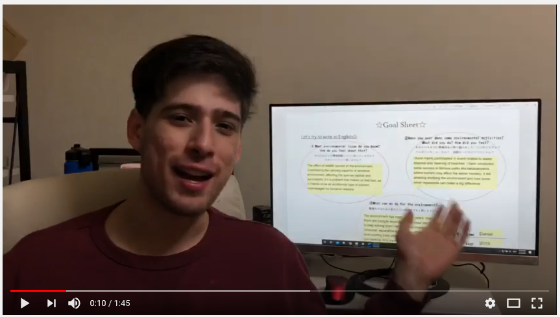 If you would also like to write your own Goal Sheet, please click here to download the template file.
Presentations from EIC Family members
We asked EIC family members to share about "What they have been taking initiative in to contribute to the Environment". Some of our friends sent in video presentations and texts about their actions towards environment protection.
Please have a look at what our friends have shared!
Presentation Videos
EIC Familyからの感想 
In Rin's presentation – she mentioned that so far she has not done much for the environment but from now on she has clear ideas and actions she would like to take like bringing your own chopsticks to the restaurants, I was inspired, from now on I will also try to do that! Let's do it together!

Tin (EIC2016-2018) Camp Leader from Vietnam
I think Tomo's presentation was very good"

Hitoha (EIC2018)
I liked Tomo's presentation because I am also learning about Kita Kyushu in Junior High school

Yui (EIC2018)
To Lise! Long time no see! This is Asuka from EIC cafe@kanto. Do you remember me? haha How have you been recently during this difficult time? Your presentation resonated with me so much and also I realized again that it is necessary for us all to tackle global environmental problems ,especially this time oceans issues and threats. Thank you so much for giving us the opportunity to think about our future.

Asuka (EIC2010)
In the Koto's presentation, I found that global warming is related to everything. I think it's important for each person to act for the environment, no matter how small.

Suzuno (EIC2015)
Looking Forward
The GNI will continue to be a platform for participants who will take on challenges daily and in global society. This year being the 20th Anniversary of EIC we will have events held by the Global Network Team aiming to establish GNI as a forum where we can see and support individual growth through learning and exchanging ideas in order to discover our next challenges and goals and to continue to try to understand the world. Through the expansion of perspectives, discussions, encounters, and connections, we will all grow and develop our individual abilities and actively work on new projects as we move into the future within the international community. We hope to be a presence that will continue to support the EIC Family!