Report
EIC 2014 Completion Report
English Immersion Camp 2014 has been successfully completed
Four English Immersion Camp sessions were held at the Hotel Biwako Plaza in Moriyama City, Shiga Prefecture from August 2nd – 5th, 7th – 12th, 13th – 16th, and 18th – 23rd.
The EIC 6 Day Program and the EIC 4 Day Program were held in 2014. All of the participants (361 students) graduated from English Immersion Camp (EIC) 2014!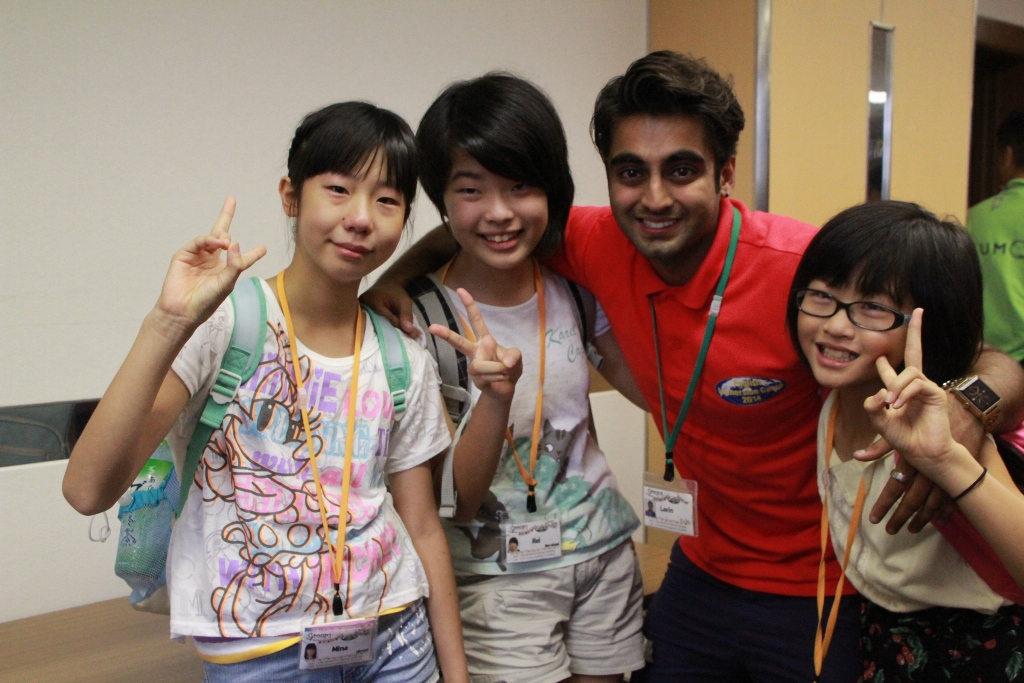 This year we held not only the EIC 6 Day Program for children studying Kumon English materials Level I1 or above or have achieved EIKEN Grade 4 on the test in Practical English Proficiency (STEP) but also the EIC 4 Day Program for children studying Kumon English materials Levels G2 – H2 or have achieved EIKEN Grade 5 on the Test in Practical English Proficiency (STEP) since 2012. While Camp Leaders and children who joined the EIC 6 Day Program communicated by means of simple English sentences, Camp Leaders and children who participated in the EIC 4 Day Program communicated using simple English words. All of the participants (361 children) of these four camps session graduated from EIC 2014!
A Global Camp where People from Many Countries and Regions around the World Live and Study Together!
Students living in the Kansai area from 17 countries and regions (including Japan) and students from Ritsumeikan Asia Pacific University in Oita Prefecture from 16 countries and regions (including Japan), cooperated with us for Camps 1 and 3 (EIC 4 Day Program) as well as Camps 2 and 4 (EIC 6 Day Program). Most of the Camp Leaders were non-native English speakers.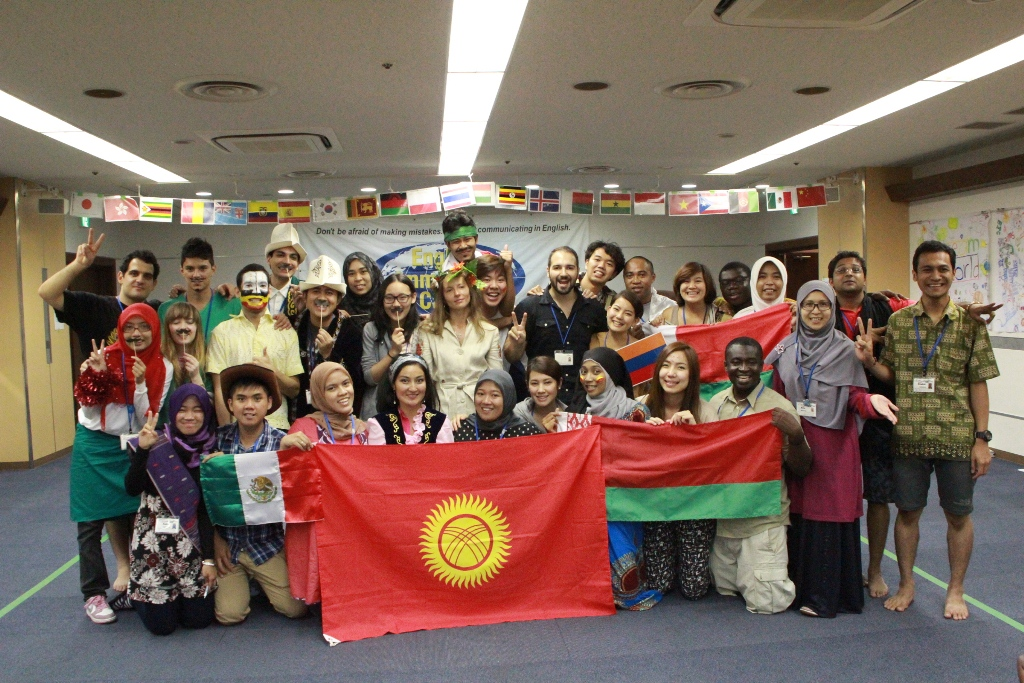 The community camp life brought together children who had gathered from various prefectures from all across Japan and Camp Leaders. The children not only experienced the joy of using English, they also made connections with people from many countries and regions, experienced becoming friends like true family members or siblings, and expanded their outlook on the world.
You can do it!!
As the name of this program suggests, the English Immersion Camp immerses participating children in English, but this does not mean that Japanese is completely prohibited.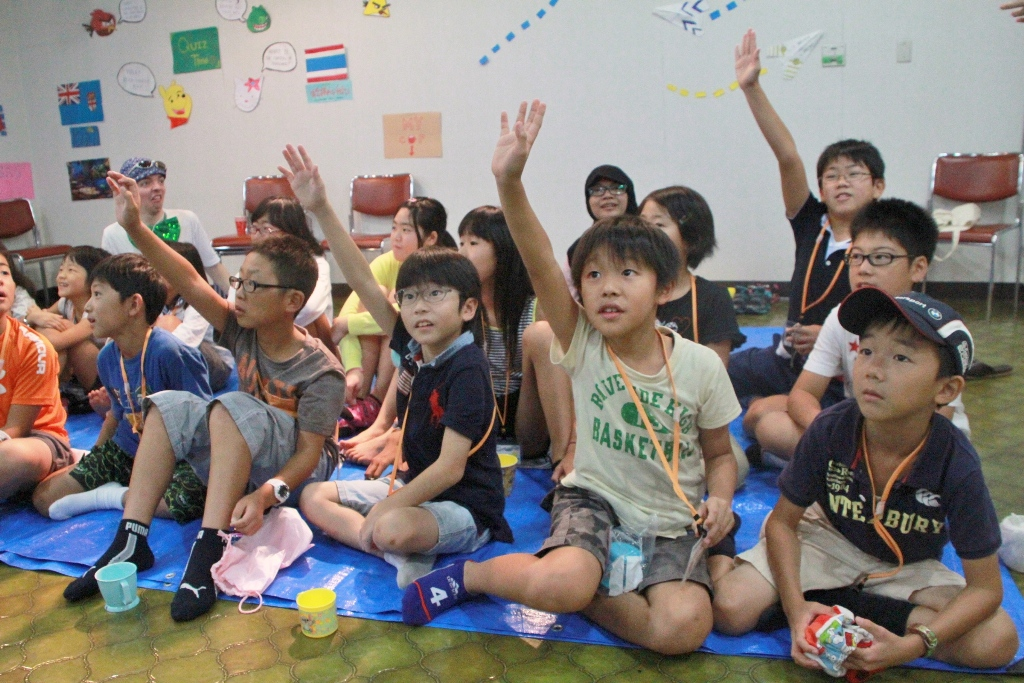 Communication with the Camp Leaders took place only in English. However, when it was not possible to convey their message skillfully in English to the Camp Leaders, we often saw the children cooperating with each other using a combination of English and Japanese to attempt to somehow communicate what they wanted to say to the Camp Leaders. And Camp Leaders constantly motivated students by saying, "Mistakes are OK! Try, try!!" Encouraged by these words, the children enjoyed communicating in English without fear of making mistakes.
Taking Action! "Well Done Points" and the Bottle Cap Project
The "Well Done Points" and the Bottle Cap Project programs have been carried out since 2010 with the intention of carrying out small actions to contribute to the greater good, and not focusing solely on benefits to ourselves. This year, we collected 11,612 Well Done Points.
EIC2014 Impressions of EIC Camp from Participants
EIC 4 Day Camp: Kaname Kowada (4th grade)
I didn't know about English Immersion Camp (EIC) until a Kumon Instructor gave me a pamphlet. After I read it, I felt like I definitely wanted to go and desperately asked my mom to apply for me. I was so excited after my mom had submitted the application. However, my heart started to beat fast and I was nervous for the two days before EIC started. My heart almost exploded.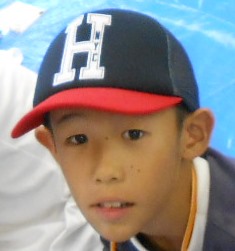 When I went to EIC on the actual day, Camp Leaders warmly welcomed me, which made me feel relieved. On Day 1, I didn't understand what Camp Leaders were saying at all and was afraid of talking to them. I felt like I want to go home. But, on Day 2, I gradually understood what they were saying. I was surprised at myself and became happy. I also tried to have courage to speak to them little by little and became confident in myself. I would like to work in different countries in the future. In order to achieve my goal, I want to study hard and complete the Kumon English worksheets. In addition, I want to try to speak English a lot. It was really nice to join EIC. I had a great experience and was able to make many friends and communicate with people from lots of different countries. I want to join EIC again!
Parent of Kaname Kowada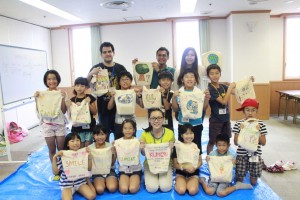 My son gained very valuable experiences by joining the camp. As a parent, I was very worried about whether he could leave his home for the first time and stay at camp for four days and three nights. But, he splendidly graduated from the four day camp based on his strong will and came back home. Since he is shy, he needed a little bit of courage to talk to Camp Leaders in English. However, he was delighted to tell me that he was able to gradually understand what people were saying from Day 2. Now he wants to speak in English more and more. He was able to make many friends and to graduate from camp with courage and confidence thanks to the warm support and encouragement from Camp Leaders and staff. He came home with many experiences that he will treasure.
EIC 6 Day Camp: Aika Watanabe (5th grade)
Before attending EIC, I was worried about whether I could communicate in English for six days. But, I got excited when Camp Leaders pleasantly and enjoyably welcomed me shouting, "Welcome! Welcome!" We were able to choose a perfect group name because all of the members of our group gave their opinions and we decided together.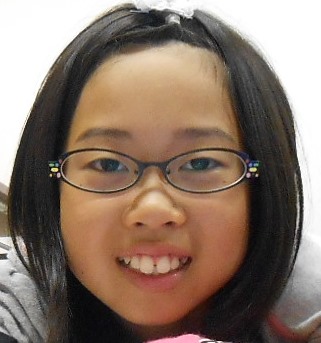 The most unforgettable activities were "Traveling Around the world" and "Eco-Heroes" because I could learn many things about foreign cultures and the environment. I want to learn more about cultures in foreign countries. Also, I was able to learn about ecology in English and make an Eco bag and a postcard. The "Talent show" and "Story & Show Biz" were very interesting and enjoyable because I could practice our scripts and dance together with group members. When I sang the song "Together" with everyone at the end of the graduation ceremony, I was so sad to say goodbye to the Camp Leaders because I had had so much fun with them. I had a good time all the way through because the Camp Leaders were always kind and taught me many things. The slogan, "Don't be afraid of making mistakes. Let's try communicating in English!" stays in my heart. By joining the EIC 6 Day Camp, I became confident in speaking, listening, and in writing a diary in English. I love EIC! Thank you everyone!
Parent of Aika Watanabe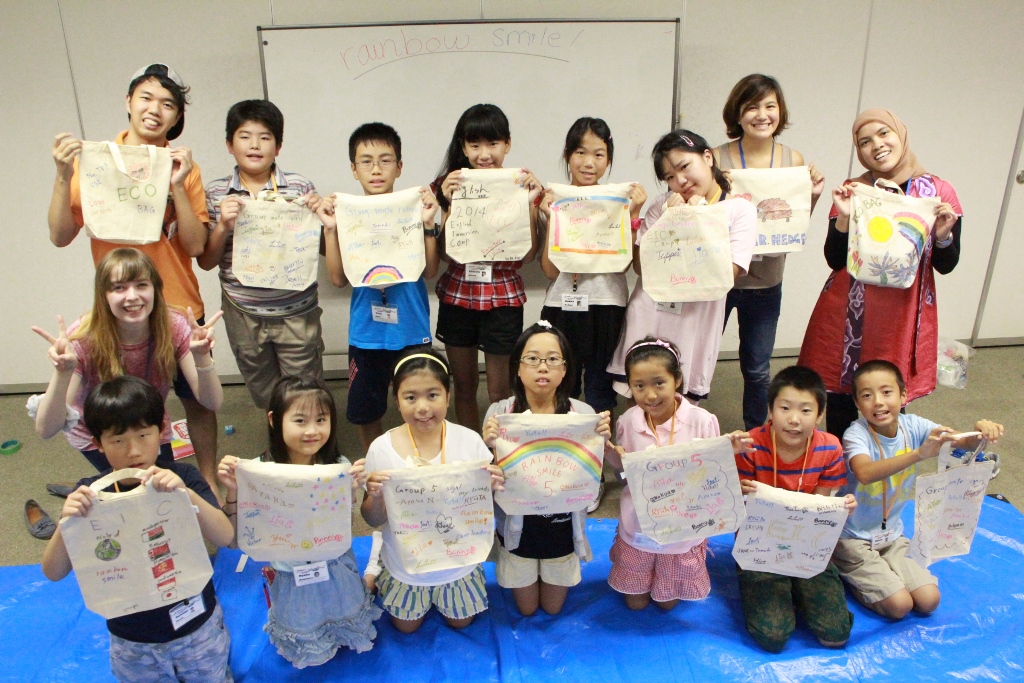 Last year she joined the four day camp and this year she joined the six day camp. I was very worried because of the typhoon but, I was relieved and realized she was having a very good time when she said that she wanted to continue camp. She has become interested in various cultures and customs because of the camps. She wants to go to Uganda and Belarus after hearing about them at this camp. The number of countries which she wants to visit has been increasing in leaps and bounds. When I saw her taking pictures with everyone and feeling reluctant to part after the graduation ceremony, I felt very grateful that she had learned not only some English but also many other things.
Camp Leaders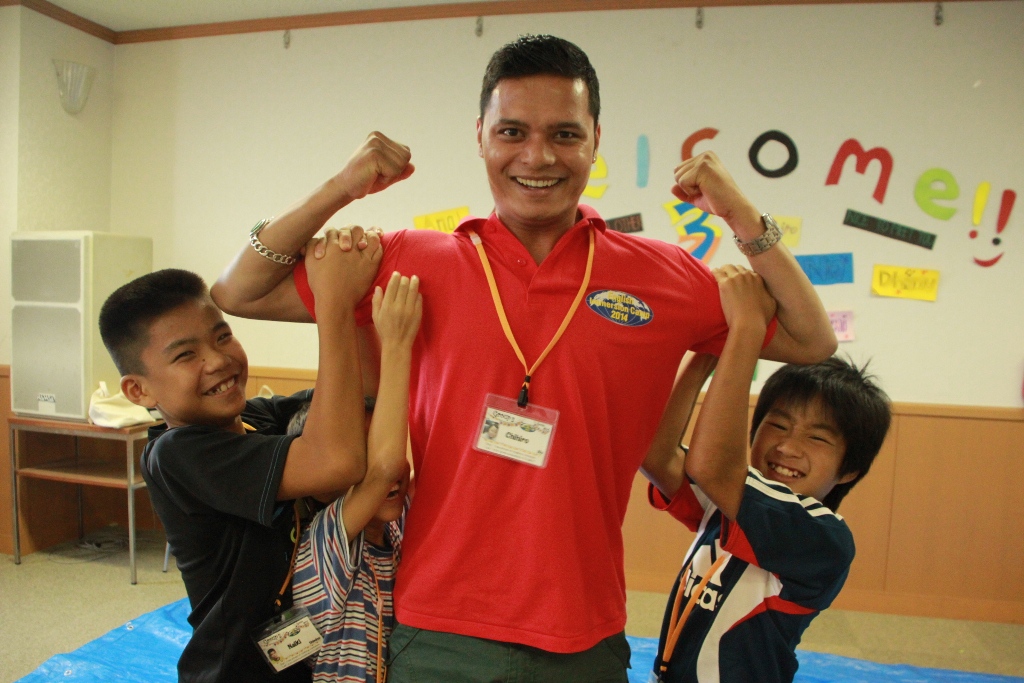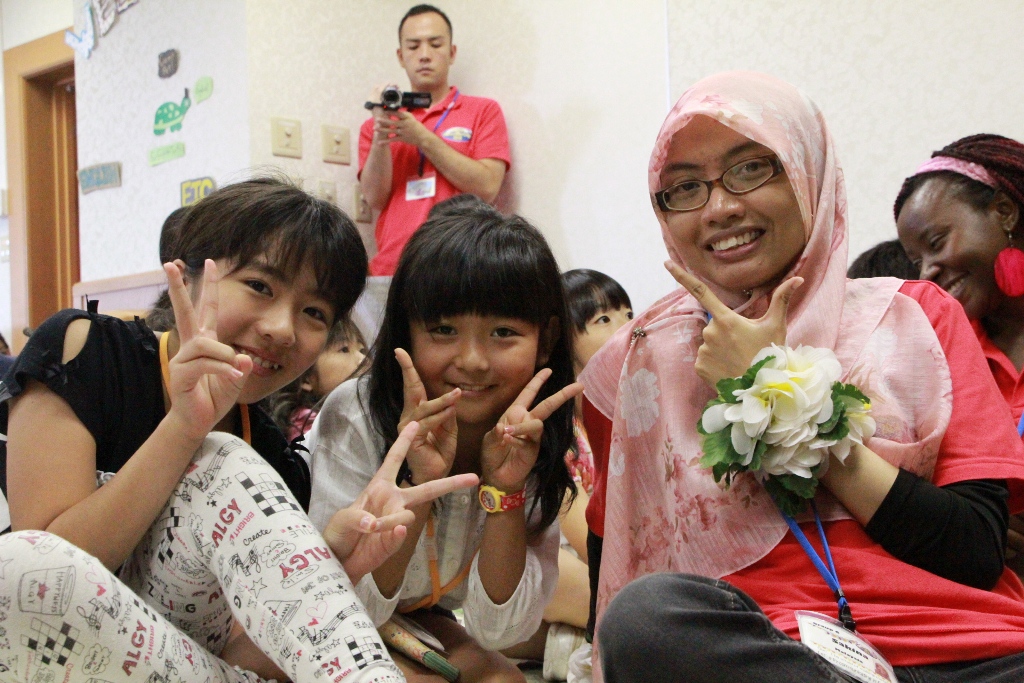 I enjoyed this camp a lot. This was a wonderful chance for me to meet all my lovely fellow Camp Leaders. Each of them has taught me something. I have always loved children and this camp has helped me to know a lot more about them. When it was finished, we were like a family.

Anoj (Camp Leader from Nepal)
It was the first time for me interacting with Japanese children. Honestly, I was nervous and yet very excited to meet them and it was truly an enjoyable time for me. I think I learned a lot about kids and Japanese culture by communicating with them. It was not only the children that benefitted from the camp. I believe that each of the Camp Leaders, including myself, also learned a lot from the kids. I miss all of the kids, the Camp Leaders and the staff. I hope we will meet again somewhere in the future! And let's keep in contact through BBS!

Sakina (Camp Leader from Malaysia)