What are you doing now…..? Vol.012 – Tomoha Onuma (EIC 2015)
Hello EIC Family!
Are you enjoying AUTUMN (FALL) season?
Did you see and took pictures of colorful leaves!
Please share with us your pictures and the best places to enjoy autumn season.
But beforewe explore places to enjoy during autumn season….our friend from EIC Family will share her updates after EIC with everyone in our monthly blog (no. 12th).
Who is she and what is her updates? Do read till the end don't forget to write your comments or words of encouragement.
---
Name: Tomoha Onuma
EIC Year participated: 2015
Hometown: Nara
Now: Studying in a high school
Hello EIC family☺
I'm Tomoha Onuma. I joined EIC 2015 and 4th OST in Indonesia (2019).
What I did before
After I joined EIC, I became interested in English and foreign cultures more. So I joined 4th OST in Indonesia. I could learn its culture and problem in Indonesia. Also I could teach Japanese culture for example Origami Kimono to Indonesian students. It was really fun!!
What are you doing now?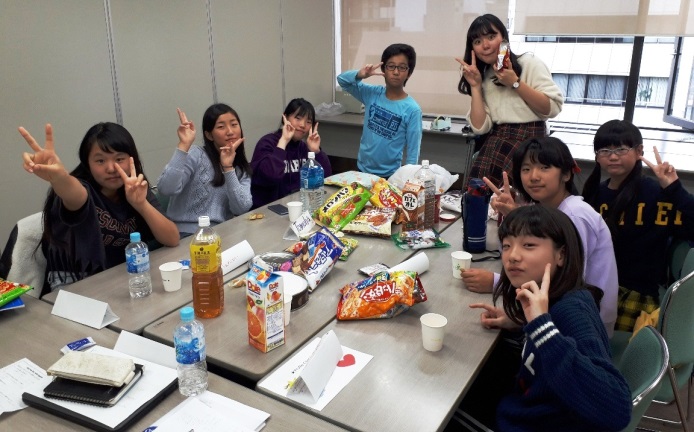 Now, I'm in the first grade of high school. Besides studying everyday, I also join the track and field school team and just had our ekiden last week.
Other than my school activity now I join EIC Cafe@KANSAI. It is a volunteer group where OBOG of past EIC participants from Kansai region come together once in 2-3 months; talk and discuss about things they want and can do for EIC family, while eating & drinking snacks and juice! It was fun because I can use English again, meet new friends and plan what we want to do.
So if you live in Kansai, studying in junior-high school and above and interested to join EIC Cafe you can email to GNT. I am looking forward to see more members!
Other than the above this year I went to UK for two weeks during summer vacation as my school project. The reason why I wanted to join it was because I wanted to know a lot about UK. Also many international students such as from China and Italy, Hong Kong, Ukraine participated in it too. I thought I could make friends and communicate with them! So I decided to join.
Why did you choose the things you are doing now?
Two weeks in the UK was not easy for me. I couldn't understand what my teacher and classmates said. At first, I was crying in my room every day. But I remembered EIC. Also in EIC, I couldn't understand what camp leaders said. However, at that time I remembered EIC's slogan, and I decided to talk to camp leaders from myself and I began to enjoy EIC.
Then I thought I tried to take action from myself in UK same as EIC. After that, I could make many friends from other countries. I still keep in touch with friends from Greece. My staying in UK made me grow.
How EIC influenced your life?
EIC's experienced is my treasure. EIC changed me a lot. When I joined EIC, I didn't have confidence of speaking English. But now, I'm still not confident, but I feel that speaking English is fun. I can't speak English very well now. So I have to study more and more to talk with my camp leaders and friends in English.
Next challenge
I want to go abroad. I'd like to do volunteer there. Because I'm interested in world problems such as global warming poverty, education. I want to do any helps to improve them. I will join 5th OST in Vietnam. I want to learn many things about it!!
Message to EIC family
Let's take action!! When you do something new, you may feel nervous or anxious at first. But if you act from yourself, surely you will be able to expand your horizons.
Don't forget this slogan! "Don't be afraid of making mistakes."
The people who I want to know what they are doing now
Friends: Suzuno, Satowa
Thank you so much for your time reading my blog★
Leave a comment
Related article