Our Approach in Nurturing Children's Growth
KEIA Leaders
We recruit and train KEIA leaders, who sympathize with Kumon's philosophy of nurturing children's growth, to facilitate our programs. Bringing together international and Japanese KEIA leaders who are either studying or working in Japan, we provide a learning environment where children can experience diversity.
The heart of what we aim for in every program is that each individual child, no matter their English level, can feel a sense of accomplishment when they return home, which will further motivate them to strive for higher goals. We understand that using only English to communicate must be challenging for Japanese children but we hope to make the KEIA experience fun and meaningful for them. In order to achieve this, our KEIA leaders are trained to adopt the mindset that every child grows differently.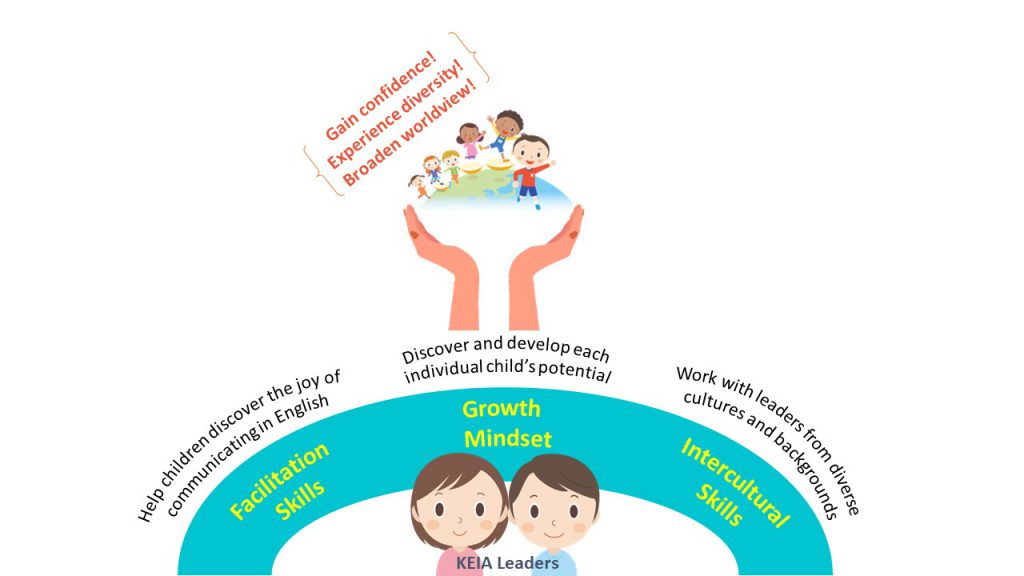 Training Programs
Our trainings ensure that KEIA leaders understand and apply these values regarding children's growth in their facilitation. We use a blended learning approach of self-paced online training and in-person trainings to help the leaders prepare for the programs. In the trainings, leaders learn and practice how to create a welcoming atmosphere, how to give children time and support to confidently express themselves, and how to adjust their approach based on each individual child's needs. For more advanced KEIA programs, such as the Global Immersion Camp (GIC), leaders also receive training on how to facilitate learning activities that encourage critical thinking and creativity in children.
For more than a decade, we have conducted KEIA programs, facilitating English communication for Japanese children with different levels of skills, strengths, and needs. In our training programs, leaders gain the insights we have accumulated and the effective practices we have developed. We use different training methods such as discussions, simulations, and practice so that leaders are well-prepared and confident in carrying out the activities. Staff who are experienced in facilitating children's growth provide feedback and support throughout the training and programs. Many of our KEIA leaders join our programs several times and get to discuss and share their experiences, making the trainings more stimulating and meaningful.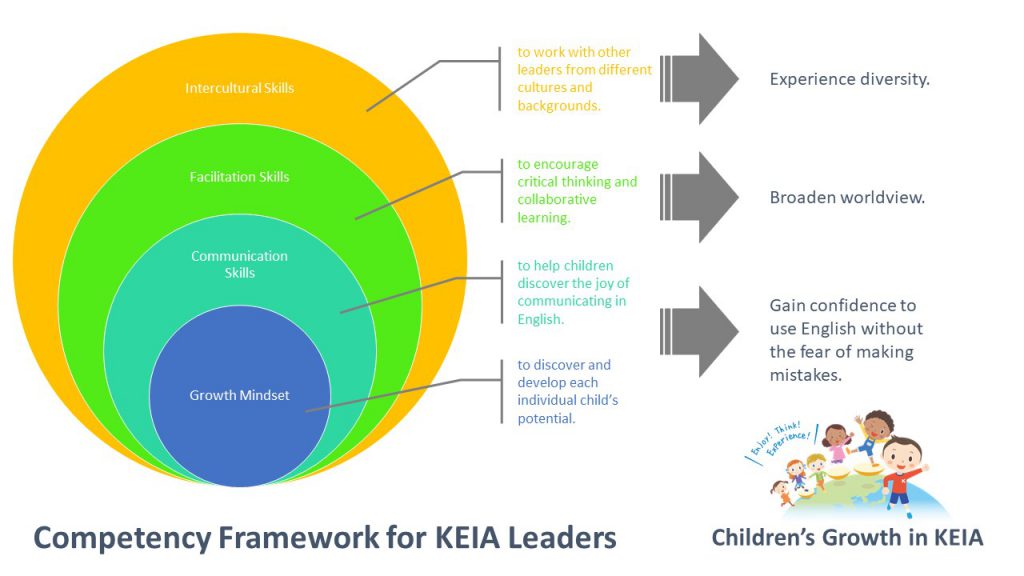 Closing Note
We have come a long way since our first KEIA program in 2001. However, as a learning organization, we are always learning from the children and KEIA leaders to improve our trainings and programs. Going forward, we will continue to strive our best to discover and develop the potential of KEIA participants to the maximum.