Report
EIC 20th Anniversary Report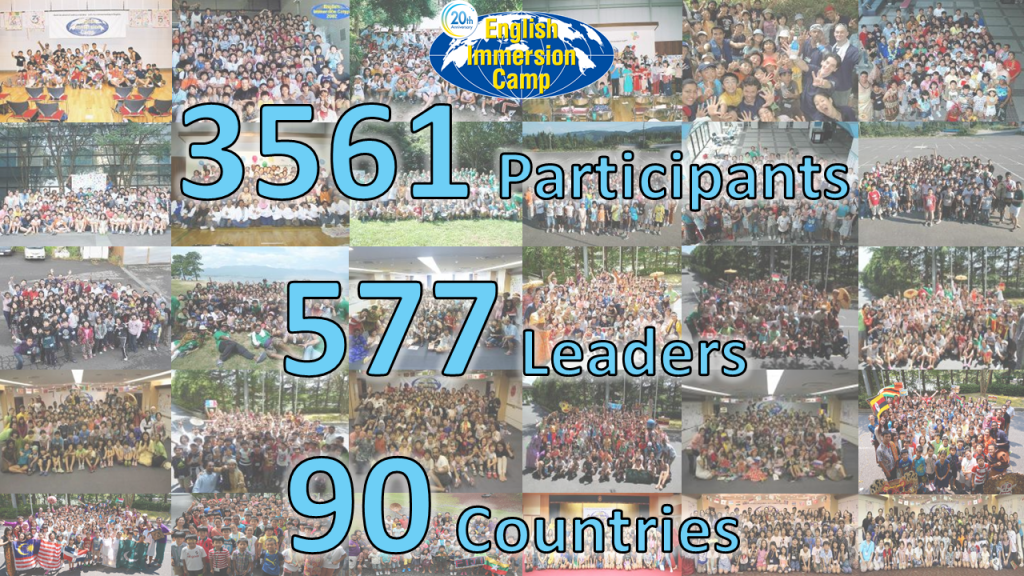 EIC, which was held for the first time in 2001, celebrated its 20th year anniversary on April 4th, 2021. EIC has been held in six locations: Oita, Kanagawa, Hyogo, Shiga, Shizuoka, and Gunma prefectures. 3,561 participants and 577 camp leaders from 90 countries and regions have grown together with EIC. We would like to thank everyone who has participated, cooperated, and contributed in one way or another to the growth of EIC with us over the past 20 years. We thank all of you very much!
During the 20th anniversary year of EIC, which ran from April 2020 through March 2021, we worked to create opportunities to expand our network by making greater use of online venues to communicate the voices and messages of many EIC alumni.
These opportunities included monthly interviews with EIC alumni, conducting Traveling Around the World online, holding video chats, and message posting on our online message board that was open throughout the anniversary year. Finally, the 20th anniversary Online Gathering was held on April 4th, 2021 with 167 participants from 33 countries who joined the event from all over the world. It's been an amazing year for us to reconnect and experience the EIC network once again.
Online Event (EIC Online Gathering): April 4th, 2021
Our "Online Gathering" was held on that day as the last program of the 20th anniversary year of EIC. Participants and camp leaders reunited for the first time in 10 years, met new people from different years, found common topics, had a lot of fun, thought about the world, and also got advice from older students regarding the future. The overall discussion as well as the topics raised were very meaningful for each and every participant.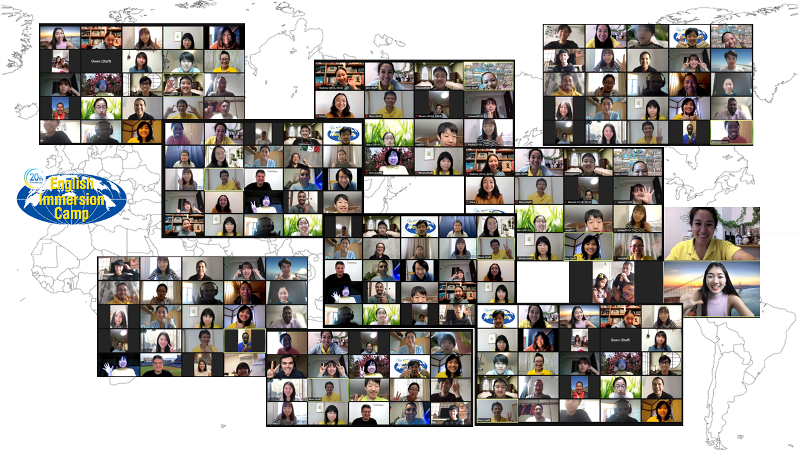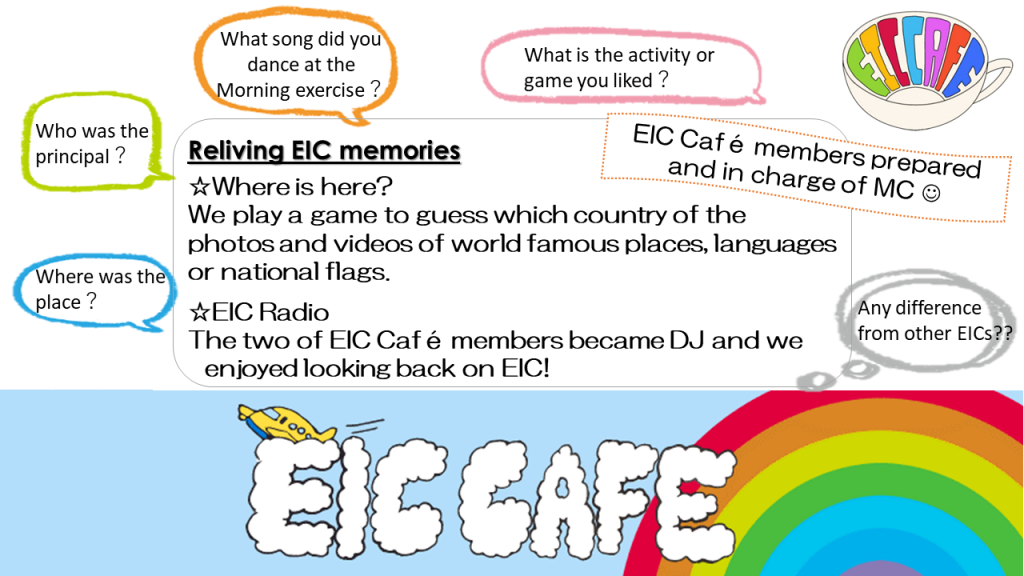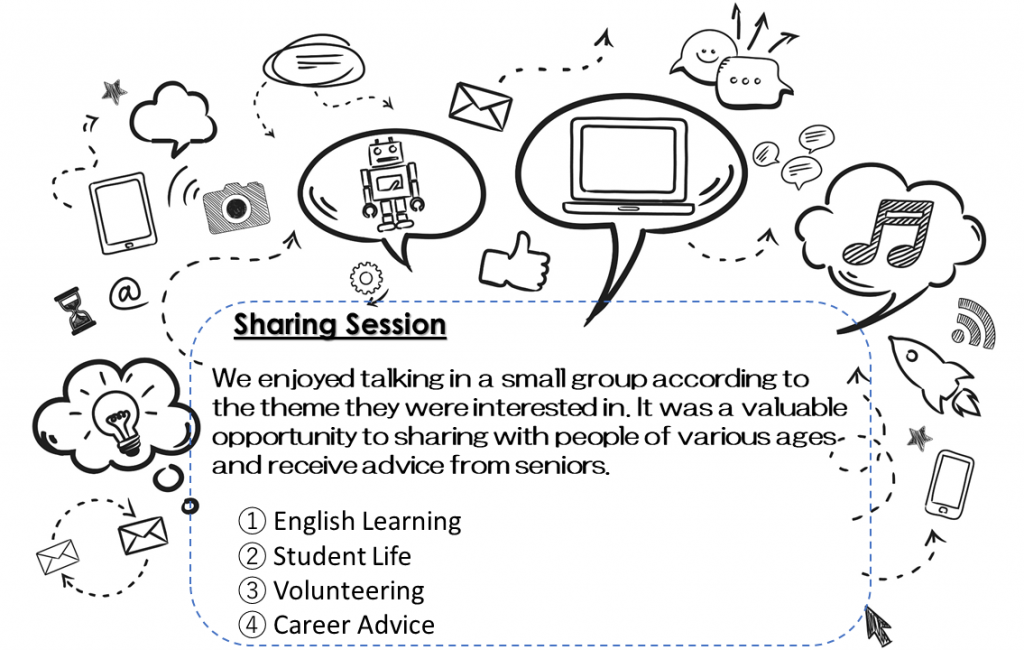 Two camp leaders (guest speakers) shared their experiences concerning contributing to society. Participants also asked many questions, expressed their opinions, thought about and discussed world issues that they wanted to tackle and actions that they could take. There is always something that we can do! We hope that each of you will take some action even if you weren't able to participate.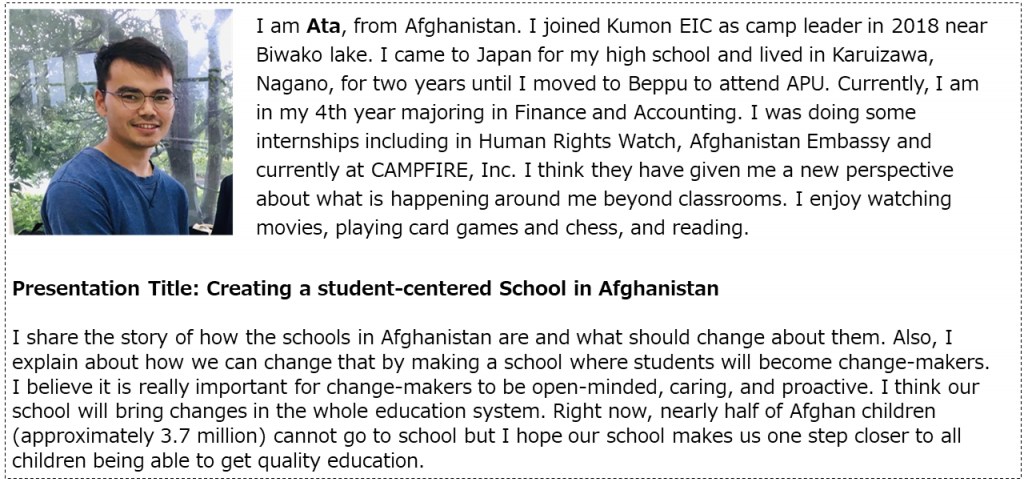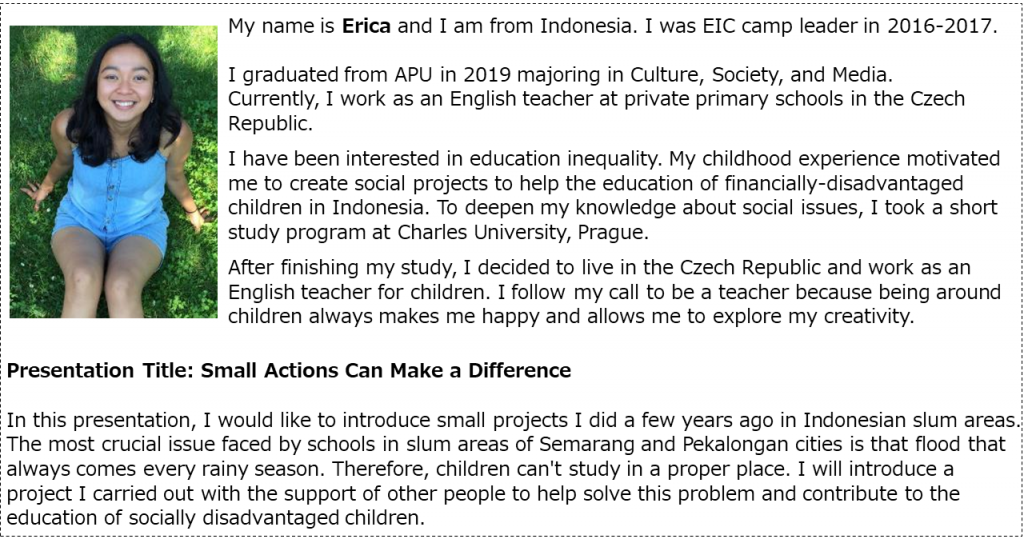 Messages from EIC Participants and Camp Leader who were planning to join.
Introducing participants' interviews!
From April 2020 to March 2021, every month we have introduced EIC Alumni through interview videos. Please take a look.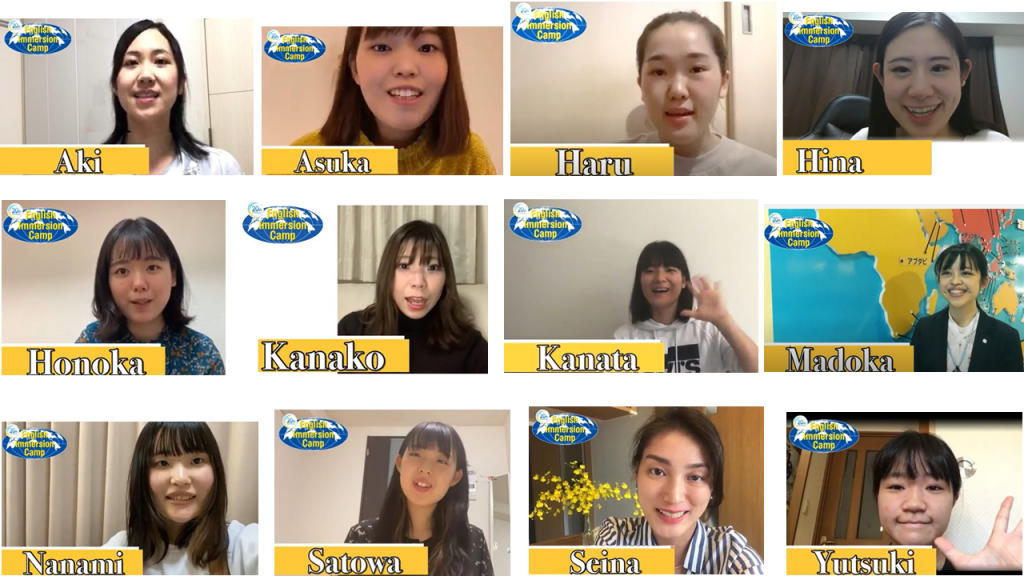 Traveling Around the World online
Every month, too, we traveled around the world with EIC Camp Leaders. Let's learn more about the world!
In the EIC Network there are Camp Leaders from 90 countries and regions. Among those, how many are you familiar with? Travel around the world together with us via the Internet! 😯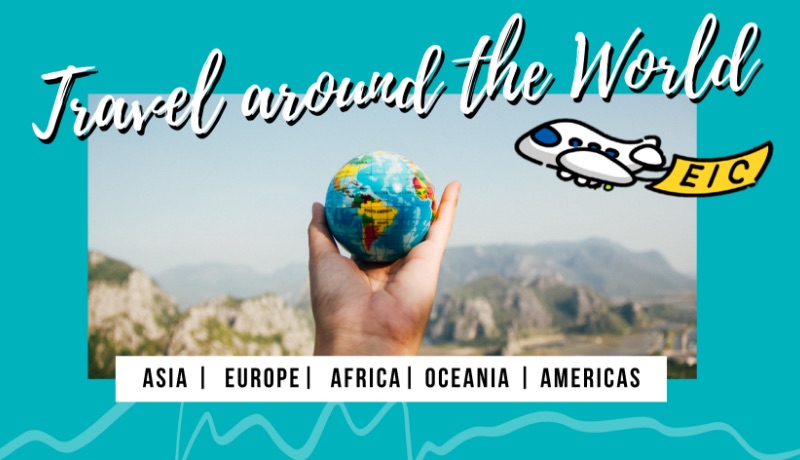 Video message & Video Chat
Here are the video messages and digest video chat for each EIC year members we gathered each month.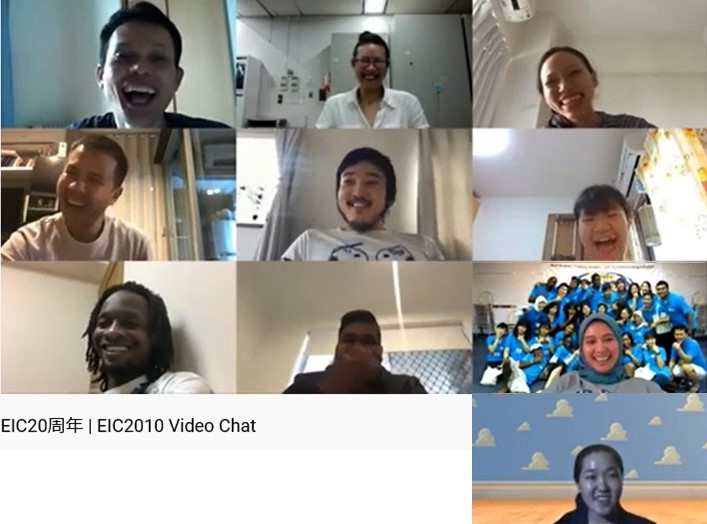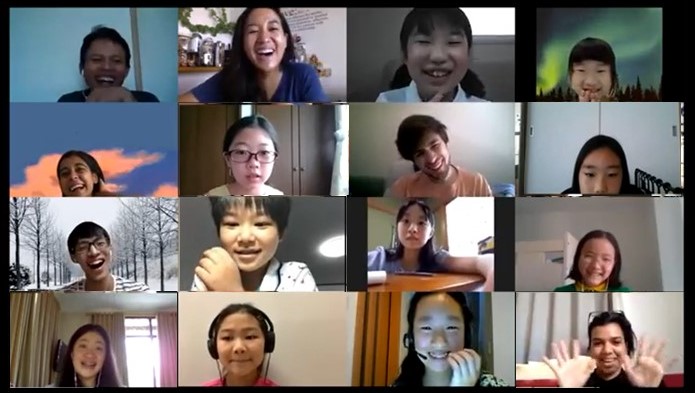 Message board
Messages from EIC Family were collected too and posted on message board!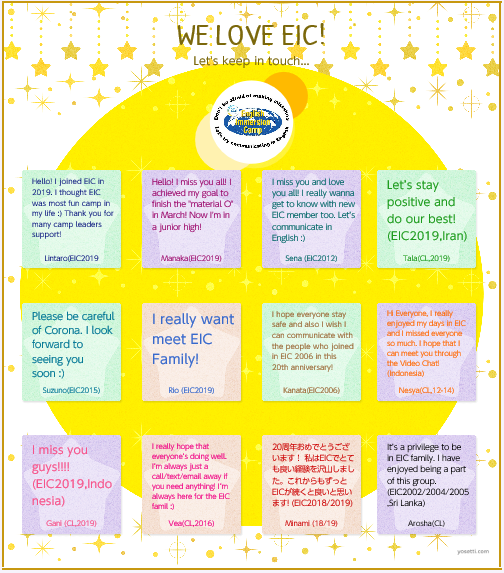 EIC 20th Anniversary Slogan
We value the network that has expanded around the world over the past 20 years. In the next 20 years we look forward to welcoming new members to build a "Strong," "Active," and "Diverse" network that will grow and support one another!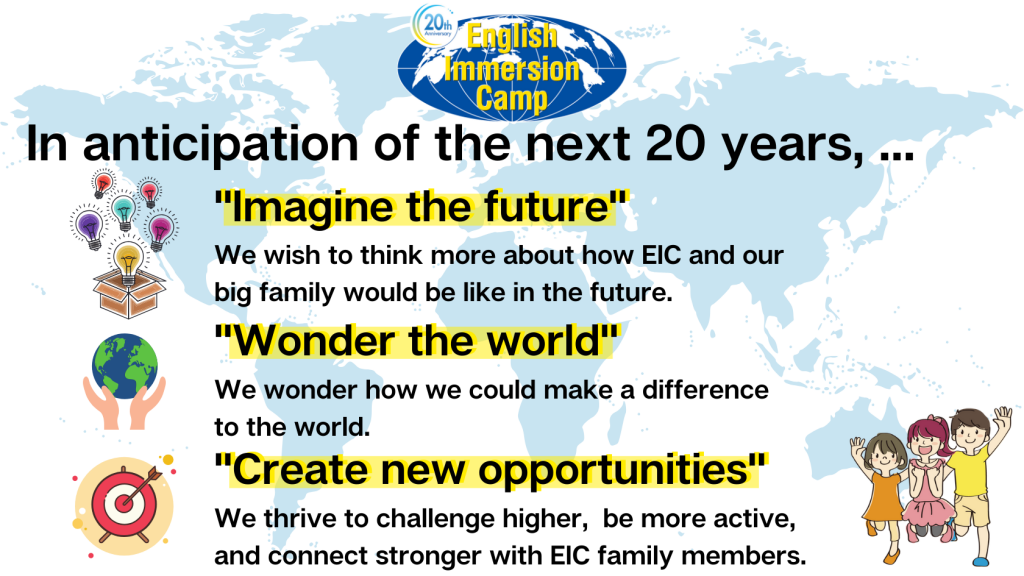 If you like this article, click the heart button!
Previous reports