Report
English Immersion Weekends (EIW) 2020 Completion Report

In March of this year, in place of the Kumon English Immersion Camp (EIC), the Kumon Global Network Team (GNT) conducted a new online English immersion program called English Immersion Weekends (EIW). In EIW 2020, 43 Japanese elementary school sixth graders from all over Japan and 12 Group Leaders coming from 10 different countries and regions gathered on Zoom. We had a fun and exciting time online communicating with each other and learning about the world using English.
EIW2020 Program Overview
"Don't be afraid of making mistakes!
Let's try communicating in English!"
The EIW Program was designed to provide many opportunities to use English to experience new cultures, to learn about world issues, and to communicate with fellow participants. EIW included four two-hour online sessions over two weekends and a number of English tasks for the participants to try at their own pace during the weekdays.
DAY1
On Day 1 of EIW, our program focused on having fun English ice-breaking games in order to create an enjoyable group atmosphere and to allow our participants to be more comfortable with speaking in English. In addition, the Group Leaders also prepared some interesting quizzes to introduce themselves and their countries to the participants. The participants enjoyed Day 1 a lot!
DAY2
On Day 2 of EIW participants were led on an online exploration trip to a new country, experienced hands-on that culture, and learned some new fun facts about that country.
India Group
Participants learned about Malaysian and Indian "Henna tattoo" as well as created their own customized "Henna tattoo" design on A4 sized-papers.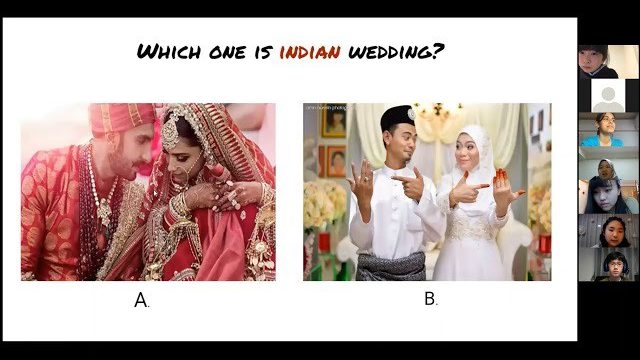 Fiji Group
Group Leaders introduced to the participants a special artifact called "Salusalu" which is worn on the body by Fijians. They also made an origami version of the "Salusalu" themselves using colored papers, strings and straws.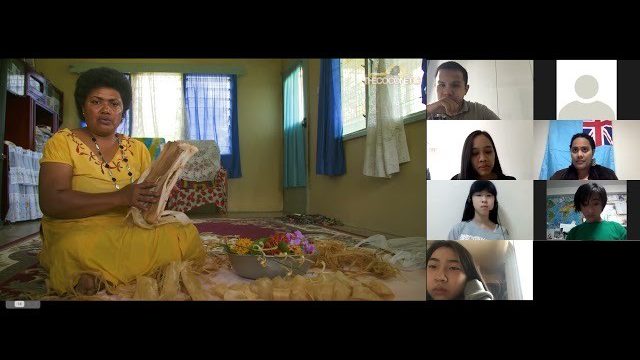 Vietnam Group
Participants talked about different kinds of "Banh troi" (also known as "Dango" in Japan) in Vietnam, Myanmar and Japan. They also learned about how to make Vietnamese "Banh troi".
China Group
Participants learned about Chinese New Year and many of their unique customs like decorating the house with red papers. The children also had a fun time comparing new years traditions in China, Vietnam and Japan.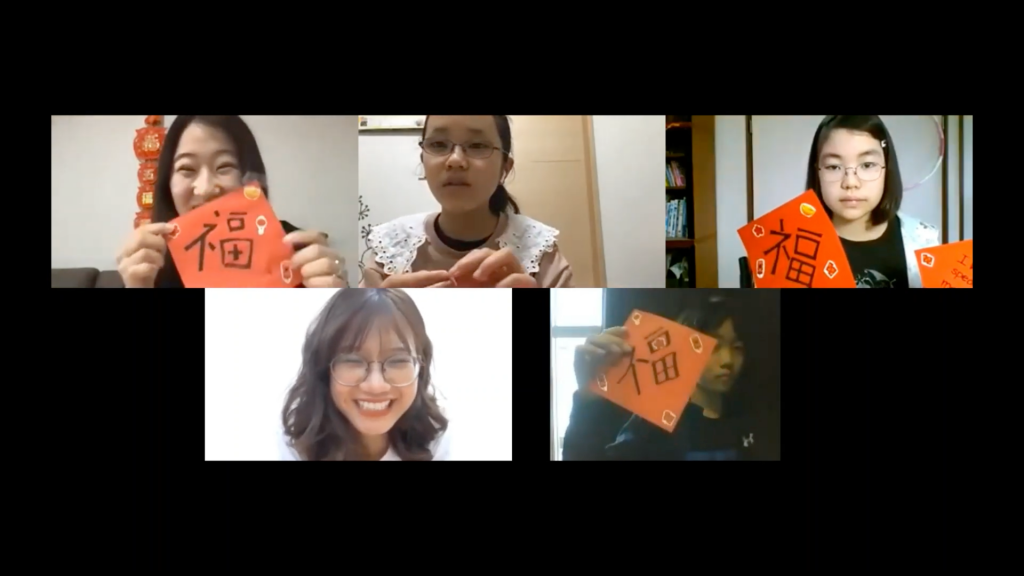 Uzbekistan Group
Group Leaders introduced "Bazaar" – the traditional market of Uzbekistan and played a bargaining game with the participants. They also quizzed each other about McDonalds Big Mac's prices in Japan, Indonesia and Uzbekistan.
After the online trip was over, participants got the chance to share, in English, what they had learned with their fellow group members.
Impressions from participants
I realized that aside from English, there are many other languages in the world, and that each of them has their own type of greetings. Therefore, from now on, I want to learn more about languages of other countries.
DAY3
On Day 3 of EIW, participants met a new friend from Afghanistan named Ata (EIC 2018 Camp Leader) and learned about his actions towards helping children in Afghanistan. After watching Ata's video, everyone discussed education problems in Afghanistan, and shared ideas about what actions they could take now and in the future to help solve educational problems around the world. We were very surprised and happy to hear the many interesting actions our participants could think of!
"What actions can you take to help solving education problems in the world?" – by EIW2020 Participants
"I can say Thank you because Japanese we go (studying) at the school."
"I can study English more hard."
"I can learn more about problems in many countries."
"I take (give) donations to another country."
"I can go to Afghanistan and help the children."
"I can volunteer."
Impressions from participants
Through the "Wonderland" activity, I became interested in learning more about problems around the world. From now on, I want to think about what I can do to help solve world issues and take actions on that.
On Day 2 and Day 3, I could learn about the cultures and problems of many countries, and understand that there are also actions I can take.
DAY4
On the last day of EIW, participants had an exchange session with students studying English at Kumon in Vietnam. They learned about each other's countries and shared thoughts with one another about their dreams and goals. We believe that the participants gained a lot of motivation and inspiration from each other on this day!
Impressions from participants
It was so much fun to talk in English with friends. Even though we are from different countries, we still have many common topics to talk about such as Japanese food or anime. It was so interesting!

Kumon Japan student
I feel very happy when I can speak English with my new friends and new teachers (Group Leaders). I have my new best friends, too.

Kumon Vietnam student
I was very happy that I could have a good time with the friend from Vietnam who even remembered my name! Also, I could once again realize the importance of studying English.

Kumon Japan student
I learned that it is essential that we learn English. Therefore I want to try harder in studying. I was able to learn many new things when talking with friends in Japan.

Kumon Vietnam student
I now know that if we study English, we will gain one more tool for communication when interact with people from other countries.

Kumon Vietnam student
Even if we do not use difficult vocabulary, I realized that I could still communicate with many different people just with simple English.

Kumon Japan student
Digest Video
Here is a digest video of EIW2020:
Messages from EIW2020 Participants
≪To friends who are studying English≫
Even if you are not good at English, it will be become really fun once you can understand. Please keep on trying and challenging yourself!
I know there many people who think (English) is difficult! However, English is very fun and interesting! Let's try harder together!
If you join in programs like EIW, you get to hear English accents that are different from the one in E-Pencil and practice having a conversation in English for the first time. So, I recommend you try this experience!
Not only can we practice communicating in English, we also can learn about cultures of many different countries aside from the big one like the United States. I think it would be great if you can join this kind of programs at least once.
No one will blame you if you make mistakes. So, be confident and try communicating in English.
"Experience is one's power. Experience is one's treasure." How about joining in EIW?
Even for those who are not confident with their English level, I recommend you join program like EIW where you can communicate in English. Even if you can think of a proper English sentence right away there, even if you use broken English, please do not worry because everyone can understand you!
Message to Participants (from staff)
To all EIW 2020 participants, even though the event may be over, we look forward to seeing you take on new challenges and striving towards your own goals.
Check out the link below for interesting videos, photo stories, and fun quizzes about different countries around the world:
Related Articles