Report
Global Immersion Camp (GIC) 2022 Completion Report

In August of this year, Global Network Team (GNT) conducted an online version of the Global Immersion Camp (GIC). 29 Japanese elementary school students from all over Japan and 21 Group Leaders coming from 12 different countries and regions gathered on Zoom. We had a fun and exciting time online communicating with each other and learning about the world using English.
ONLINE GIC2022 Program Overview
"Don't be afraid of making mistakes!
Let's try communicating in English!"
The ONLINE GIC Program was designed to provide many opportunities for participants to use English to experience new cultures, to learn about world issues, and to communicate with one another. GIC included five two-and-a-half-hour online sessions from August 7th through 11th with a 30-minute online free time period each day where each group was able to talk freely and at their own pace.
"Let's explore together,
and make this world a better place to live."
DAY1
On Day 1, our program focused on having fun English ice-breaking games in order to create an enjoyable group atmosphere and to allow our participants to be more comfortable with speaking in English. In addition, there were also interactive contents on the topic of the daily usage of water so as to warm-up the participants for "Wonderland" (an activity focused on thinking about global issues) on Day 4. Thanks to the fun facilitation of Group Leaders, the participants enjoyed Day 1 a lot!
The participants and leaders were nervous at first but got to know each other through group activities, and everyone became more interactive from Day 2.
DAY2
On Day 2, participants took turns to act as tourists and travel agents to introduce a famous place, famous food, and famous souvenirs from their hometowns to each other. At the end of Day 2, participants were excited to learn a lot of new interesting things about their own country– Japan!
DAY3
On Day 3, participants were guided on an online exploration trip to two new countries each, experienced hands-on activities involving that culture, and learned some new fun facts about the country. In total, there were eight countries introduced by Group Leaders.
India
Participants learned about the Indian national bird, the Peacock, and also created their own origami version of that special bird.
Indonesia
Group Leaders introduced to the participants a special artifact called a "Wayang." They also made an origami version of an Indonesian hand-fan using batik-pattern papers and chopsticks.
Thailand
Group Leaders introduced to the participants the uniqueness of temples in Thailand. They also drew patterns for origami versions of temple buildings.
Micronesia
Participants learned about two Micronesian children's games and tried them out online using blocks, rubber bands, and super balls. Everyone also had a fun time competing to win in the challenging ball game called "Pispwohra."
Vietnam
Group Leaders introduced to the participants countryside scenery of Vietnam and a special children's toy made from coconut leaves. They also made an origami version of the toy together!
Mongolia
Group Leaders introduced "Khorkhog," the traditional Mongolian barbeque dish, by playing games with the participants. Everyone was very surprised about the meat used for barbeque in Mongolia!
Myanmar
Participants learned about Myanmar's new year's festival "Thingyan" & a traditional food (sticky rice balls) served during this period. They also learned how to cook it!
Sri Lanka
Group Leaders introduced festivals are like in Sri Lanka to the participants. Everyone was quite surprised about the elephants that join in Sri Lankan parades!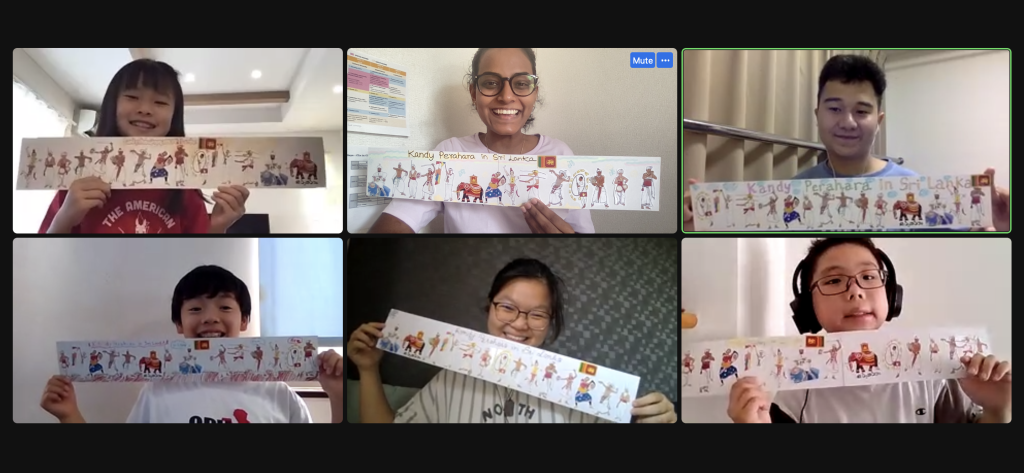 After the online trip was over, participants got the chance to share, in English, what they had learned with their fellow group members.
Impressions from participants
There are many cultures in the world that I didn't know about, and it was interesting to learn about the differences between these countries and Japan.
I wanted to actually try the food of other countries.
I wanted to know more about other countries, I want to go there, and I want to be able to speak languages other than English.
I learned that if I could speak English, I would be able to express how great my place is to people from all over the world.
DAY4
On Day 4, participants met Mr. Katsura, a special guest from the JICA Shiga Desk, and took time to think about water problems in the world via a role-play activity. In the role-play activity, everyone got to act as a volunteer who went to meet different villagers and learned about what water problems are occurring in the village. After that, everyone got to gather with group members to share their ideas and think about what they could do to help the village. In the end, everyone also reflected about how they felt and what action they would like to take now, and in the future, to help solve water problems around the world. We were very surprised and happy to hear the many interesting proposals that our participants thought of!
"What actions can you take to help solve water problems in the world?" by ONLINE GIC2022 Participants
It made me think a lot about the earth.
First of all, I wanted to learn about water and the world, so I researched more about it on the Internet.
If it were me, I would pick up the garbage, and I thought about actions that I could take to do something for the world so as not to waste water.
Read More about JICA and Messages from Mr. Katsura (JICA Shige Desk)
DAY5
On the last day of ONLINE GIC, university students who have participated in GIC in the past shared their thoughts about what they did when they were in elementary school and about their goals for the future. Participants prepared a group presentation in English to give their impressions of the event as well as talking about the next challenges that they would take on aimed at achieving their dreams. They also took the initiative to ask each other many questions about their goals and dreams. We believe that the participants gained a lot of motivation and inspiration from each other on this day!
Messages from ONLINE GIC2022 Participants
≪To friends who are studying English≫
It may be difficult to speak English, but I thought that if I had the courage to speak English, I would be able to broaden my horizons and make new discoveries.
The pronunciation and worksheets are difficult, however even if I stumble, I can learn from that and it becomes my skill!
Message from ONLINE GIC2022 Camp Leaders
ONLINE GIC2022 is an incredible and meaningful event a kid should at least participate in once during the summer. Not only does it allow them to build confidence in English, but they can also learn about critical social issues in a fun and interactive way. This is also a chance for them to get to know multiple cultures in the world by closely learning and spending time with GLs from different countries. All in all, I believe that GIC brings an opportunity to raise children to become future global citizens.

Kat (Vietnam)
GIC 2022 was interactive, engaging and productive for kids. GIC2022 has given the kids a great opportunity to know and learn different things from Japan and outside Japan in English. GIC2022 has surely widen the thinking horizon of kids which will be useful for their future life to solve difficult problems and to face future challenges.

Haroon (Pakistan)
As a GIC Group Leader, I feel energized by children's will to learn new, and will to improve themselves. Although I was the leader, I feel motivated by their pure energy. Every day they try so hard to learn English to achieve their goals and dreams, and they take actions step by step. I was the one who learned a lot from them.

Odno (Mongolia)
Message to Participants (from staff)
To all ONLINE GIC2022 participants: even though the event may be over, we look forward to seeing you take on new challenges and strive towards your own goals.
Please do not hesitate to stay connected with us and keep sharing information with us about your future challenges and experiences with everyone in the GIC Family Network! What can you do to stay connected?
How about writing a blog in English? "What are you doing now?"
How about learning more about other countries online? "ONLINE TAW"