English Immersion Camp Website Renewal Notice

Over the past few years, in addition to the annual English Immersion Camp (EIC), we have conducted various other English immersion programs with the aim of providing more opportunities for Japanese children to experience using English as a communication tool in a multi-cultural environment. These include the English Immersion Day (EID) held in different regions throughout Japan and the English Immersion Hour (EIH) conducted online. Going forward, we will be promoting these activities as KEIA (KUMON English Immersion Activities) and we have renewed our website to make it easier for everyone to find up-to-date KEIA-related information in one place.
New Features
1. User Friendly KEIA information
We will post latest updates about event information, as well as the voices of children, parents, and KEIA Leaders who have participated in our events, including stories of their subsequent growth.
2. Full information on activities after participating in EIC (Old Boys Old Girls OBOG- Alumni/ EIC Café)
We will introduce events that EIC participants can join even after the camp, and stories that will inspire you to "be yourself!" by sharing the efforts of OBOG / KEIA Leaders!
We plan cafe-specific events and hold study sessions within cafe members. We participate in EIC, which is held every summer as EIC café members, and participate in GNI (every spring). Our members range from junior high school students to university students, and there are opportunities to meet and interact with members from different EIC years (2010-2018)! Please feel free to join us!

EIC Café Members
* EIC cafe is for junior high school students and above who have participated in EIC.
3. Comment and Encouragement Messages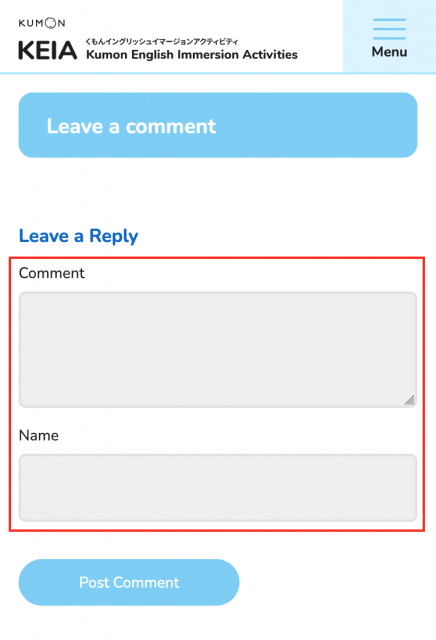 From now, you do not need to log in to leave a message on a Blog, you can do that right away. Please don't forget to add your name and EIC year! Encourage a friend today!
4. "Like" Button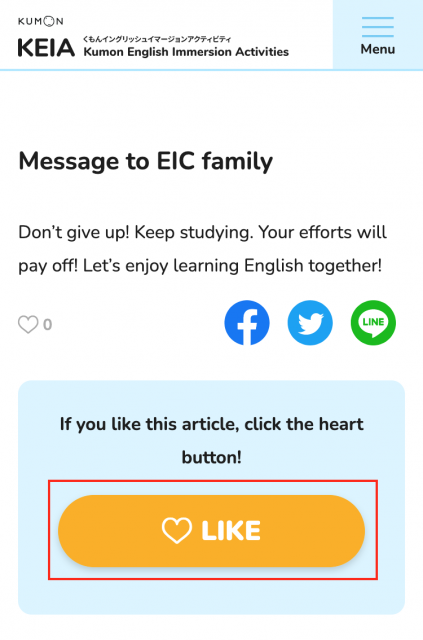 If you find the content useful or interesting in an article, don't forget to give it a "LIKE"!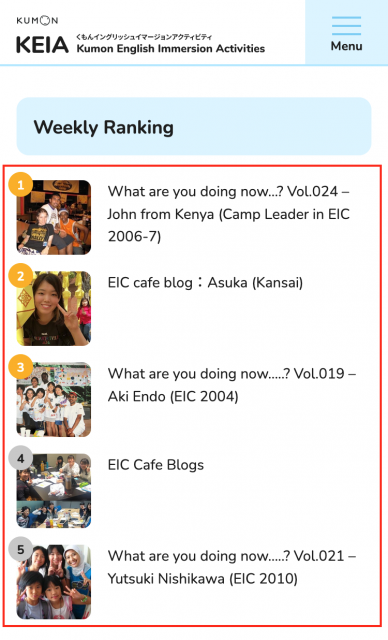 Popular articles will be showed on the rankings, which will be updated weekly!
5. Share it on social media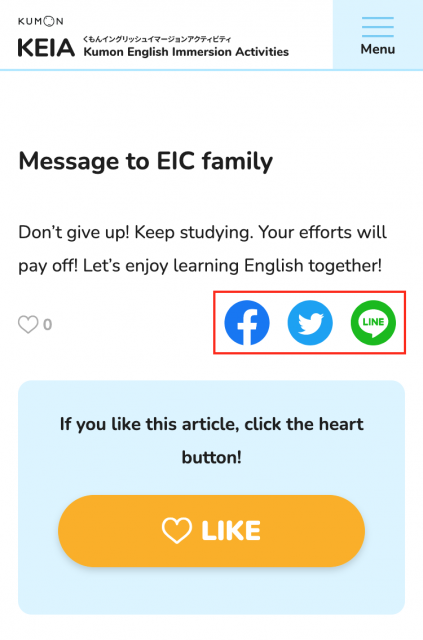 You can share the contents on Twitter, Facebook, and LINE. We hope you help us spread our website content, especially the children's efforts and challenges!
For those who have joined EIC, we also have our EIC Family Social Media on Facebook and Instagram. With frequent use of social media, we aim to have easier communication access and re-connect with more EIC family members!
6. Search engine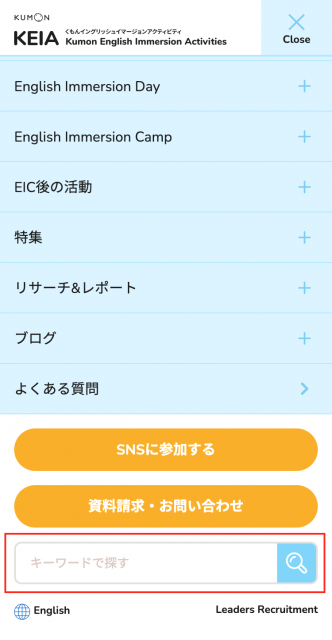 You can search for keywords on the website. Try entering keywords such as "EID Osaka" and "report".
If you have any questions or how to use the KEIA website, please contact us. We would love to hear from you!
KUMON INSTITUE OF EDUCATION CO., LTD
Global Network Team, Public Relations Department
〒532-8511, Kumon Kyoiku Kaikan, 5-6-6 Nishinakajima,
Yodogawa-Ku, Osaka Tel: 06-6838-2683
Fax: 06-6838-2664 Email: english.camp@kumon.co.jp
Contact us