EIC 20th Anniversary
News
EIC Video Chat
2020.06.30 Application OPEN! Please check out the dates.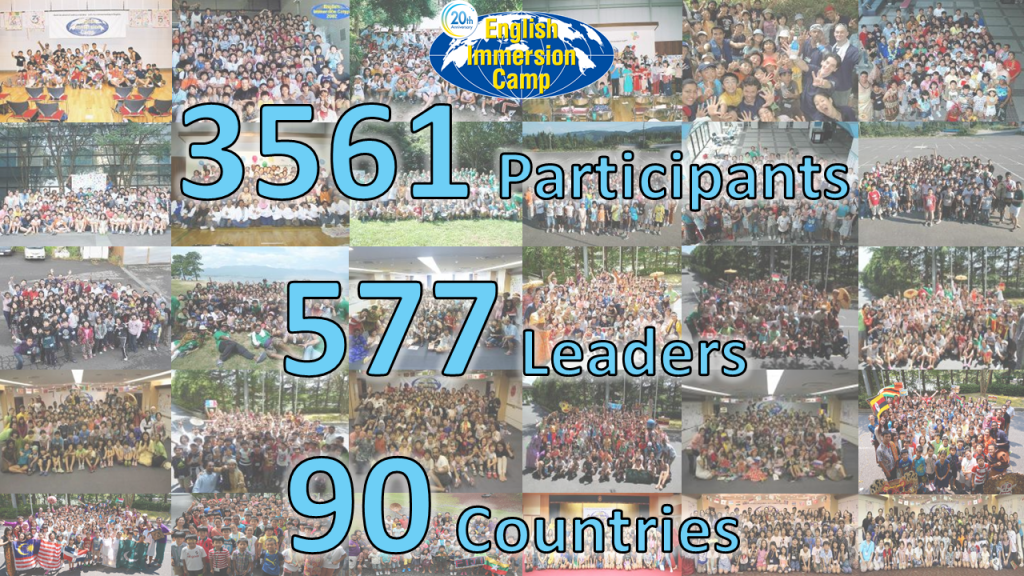 EIC, which was held for the first time in 2001, will be celebrate its 20th year in 2020. EIC has been hold in 6 locations:Oita, Kanagawa, Hyogo, Shiga, Shizuoka and Gunma prefectures. 3,561 participants and 577 camp leaders from 90 countries and regions have grown together with EIC. We would like to thank everyone who has participated and cooperated with us over the past 20 years.
EIC 20th Anniversary's Slogan
We value the network that has expanded around the world over the past 20 years, and in the next 20 years we look forward to welcoming new members and build a "Strong", "Active" and "Diverse" network that will grow and support one another!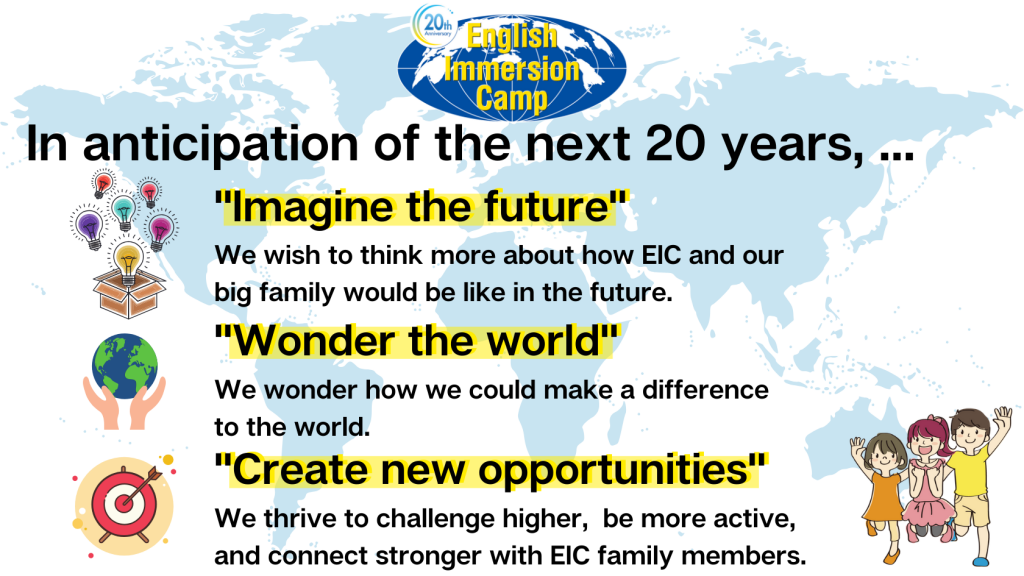 Plans for EIC 20th Anniversary
To mark the 20th anniversary, from April 2020 to March 2021,
✓ We will deliver as many EIC participants voices and messages as possible.
✓ Making greater use of EIC / EID and online platforms to create opportunities to expand our networks.
(EIC café:The gathering space for EIC Past Participants(Mostly junior high students and above).
Please also take a look at the Blog written by EIC Cafe Members!)
We will continuously update more information, so please be sure to take a look from time to time!
Online Event(EIC Online Gathering)
For the last program to celebrate EIC 20th Anniversary, we are going to hold an Online Event! It will be an opportunity for everyone to reunite with friends and Camp Leaders, while building new connections with friends joining EIC in different years! We have different programs so you are free to choose and join any program based on your preference and availability. Please refer to the program schedule below.
When?:4th, April, 2021 (Sunday) 09:30-17:00
Where? :Zoom
Message from
①:Video message & Message board
(video will open in youtube)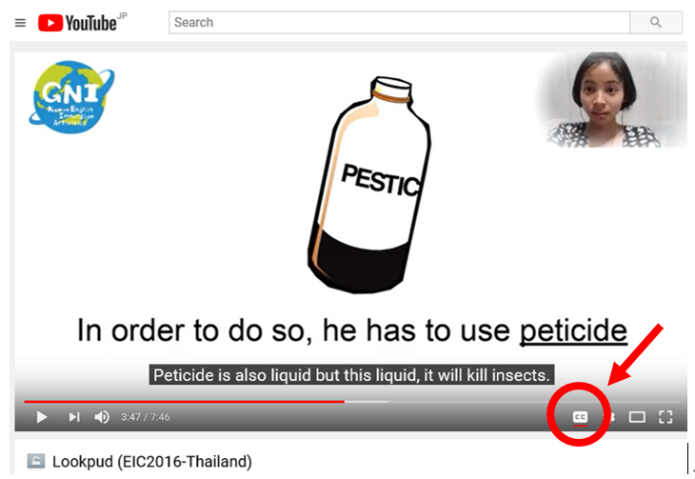 NEW!

Video message Vol.18 (From EIC2014)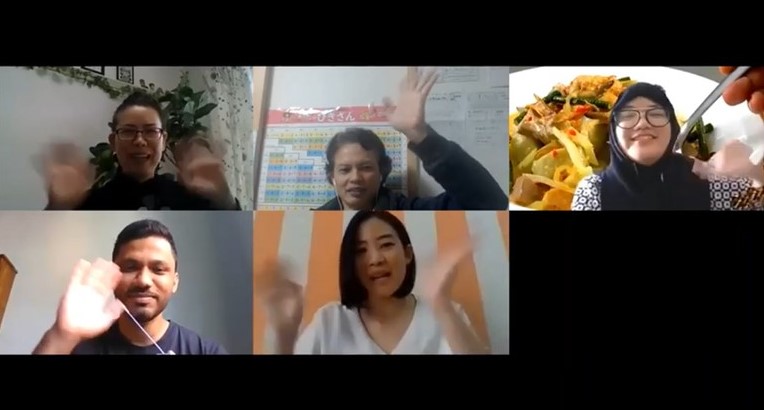 Dhanu (Sri Lanka)
Icha (Indonesia)
Nia (Indonesia)
NEW!
Video message Vol.17 (From EIC2011 Video Chat)
We are now collecting videos from EIC Participants, CLs & Staff!
We will be sharing your video messages on EIC 20th Anniversary webpage. Filming together with other past EIC CLs, Staff & OBOG or recordings of video calls are OK too! We look forward to receive lots of video messages from you all!
Message board Messages from EIC Family!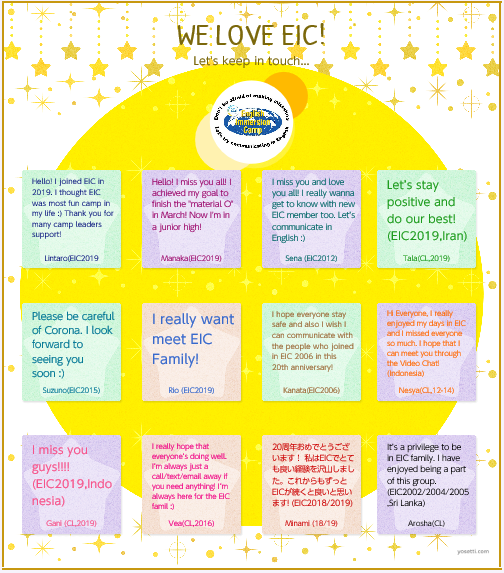 We are waiting for messages from EIC almni (participants, camp leaders, staff)! ※The message board is an external site.

Note 💡 Please include the year of EIC participation next to your name (nickname) or in the text.
Example)*Taro(EIC20○○)/ *I joined EIC in 20○○ etc. There is a limit to the number of characters, so if you can't put it, just ○○ is OK!
②:Introducing participants' interviews!
We will be updating at least one interview every month from now.
In consideration of the current situation, we will be asking for almni's cooperation with sending in video messages. Once the situation improves, we will directly go visit almni in each regions! Please join us! 😆
January's participant
December's participant
November's participant
③:Traveling Around the World online
Every month we will travel around the world with EIC Camp Leaders! Let's wonder about the world!
In EIC Network, there are Camp Leaders coming from 90 countries and regions. Among those, how many countries do you know about? Let's travel around the world together with us via the Internet! 😯
■We had last online session on December 20th. TAW(World Festival) Online session summary
④:EIC Video Chat
Let's gather with friends who joined EIC in the same year! 😀
Would you like to meet and talk with friends, Camp Leaders, and Staff that you spent time with at EIC? It is okay to join later or leave early!! And if you want to talk more, we can extend the call time. We hope that many friends will join us in EIC Video Chat!

Video Chat Schedule
EIC2010
Date and Time:19/07/2020 (Sun) 16:00-17:00 (Japan Time)
Apply by:15/07/2020 (Wed)
EIC2019
Date and Time:30/08/2020 (Sun) 11:00-12:00 (Japan Time)
Apply by:21/08/2020 (Fri)
EIC2009 / 2008
Date and Time:30/08/2020 (Sun) 16:00-17:00 (Japan Time)
Apply by:21/08/2020 (Fri)
EIC2018
Date and Time:27/09/2020 (Sun) 11:00-12:00 (Japan Time)
Apply by:18/09/2020 (Fri)
EIC2004 / 2003
Date and Time:27/09/2020 (Sun) 16:00-17:00 (Japan Time)
Apply by:18/09/2020 (Fri)
EIC2017
Date and Time:10/11(日) 11:00-12:00
Apply by:10/02(金)
EIC2007 / 2006
Date and Time:11/10/2020 (Sun) 11:00-12:00 (Japan Time)
Apply by:02/10/2020 (Fri)
EIC2016
Date and Time:08/11/2020 (Sun) 11:00-12:00 (Japan Time)
Apply by:30/10/2020 (Fri) 07/11/2020 (Sut)
EIC2002 /2001
Date and Time:08/11/2020 (Sun) 16:00-17:00 (Japan Time)
Apply by:30/10/2020 (Fri) 07/11/2020 (Sut)
EIC2014
Date and Time:13/12/2020 (Sun) 11:00-12:00 (Japan Time)
Apply by:04/12/2020 (Fri)
EIC2005 /2011
Date and Time:13/12/2020 (Sun) 16:00-17:00 (Japan Time)
Apply by:04/12/2020 (Fri)
EIC2015
Date and Time:31/01/2021 (Sun) 16:00-17:00 (Japan Time)
Apply by:22/01/2021 (Fri)
EIC2012
Date and Time:28/02/2021 (Sun) 11:00-12:00 (Japan Time)
Apply by:19/02/2021 (Fri)
EIC2013
Date and Time:28/02/2021 (Sun) 16:00-17:00 (Japan Time)
Apply by:19/02/2021 (Fri)