Knowing the World in Tsukumi-shi
Hello! This is Jacky (Indonesia, EIC2013).

At November 15th 2014, my friends and I hold an event, "Waku-waku Exchange program: Knowing the World" in a NGO at Tsukumi-shi, Oita prefecture.The concept of event was inspired by "Traveling around the World", an activitiy we usually had in EIC. We thought that it was a good activity, so we presented it for kids in Tsukumi.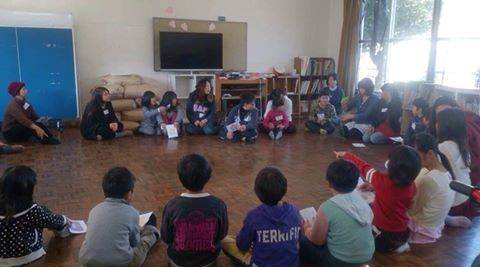 First of all, do you know Tsukumi-shi? Not many people know about Tsukumi-shi. Tsukumi-shi is a region of Oita prefecture, which famous for its fishes like maguro, its orange (mikan), and its dolphin. In order to go to Tsukumi-shi, we can reach there by train. From Beppu, it takes around 1 hour and a half. Not so many people live in Tsukumi. Also, only a few people originated from other part of Japan live in Tsukumi, not like Tokyo, Osaka, or the big cities of Japan. Moreover, very few foreign people going to Tsukumi. So, Tsukumi people do not have a chance to meet new people that much. It caused they doesn't know about the world that much. This is our background to hold this event. We have purpose to create opportunity for Tsukumi kids to meet people from different background and different culture so they can broaden up their knowledge about the world.
For the opening, we sang "If you're happy and you know it clap your hands" in 17 languages. Then, we played Indonesian janken and made janken train. From the janken train, we made small groups for the "Knowing the World" session.
Knowing the World session was interesting for the kids. There were 5 countries to explore; Indonesia, Thailand, Norway, The Philippines, and Vietnam. Kids could interact with International students from those countries, and know more about the country. They learned about capital city, foods, animal, famous thing from the country, played the toy, tried instrumental music, etc. Then, they collected sign from international students they've visited.
Lastly, we had feedback session together. Comments from kids were very cute. A kid said, "I just know that there is Komodo dragon in Indonesia!", while another said, "I just know that Norway is different with Japan!" "I like to know foods from many countries", and so on.
Finally, it was really good to know that everyone is happy. We hope from this chance everyone will have more interest to know more about the world.
Leave a comment
Related article