OST Blog – Learning Indonesian Culture
Group Introduction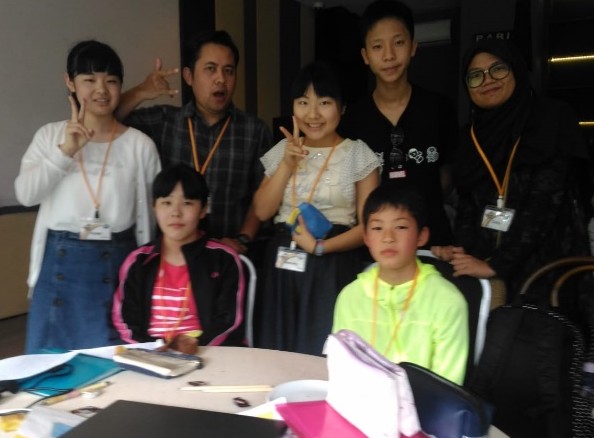 My name is So. I am 14 years old.
My hobby is playing tennis. I am from Osaka.
My name is Ayano. I am 14 years old.
My hobby is eating strawberries. I am from Kanagawa.
My name is Momoka. I am 13 years old.
My hobby is solving puzzle. I am from Nara.
My name is Hitoha. I am 12 years old.
My hobby is reading books. I am from Fukushima.
My name is Kentaro. I am 11 years old.
My hobby is playing soccer. I am from Shiga.
The Most Interesting Activities
#1 Teach Origami
When we teach to Datarajan children Origami , I am so interesting. We introduced about a crane and Kabuto. We made Kabuto by a newspaper. Because by making newspaper. They can put it on head. They will can enjoy after. A crane is difficult for them. So, we have to teach it exactly. We gave how to make a crane, but they couldn't understand about it. We taught to them until. They can understand. There were a lot of children who not understand it. We were very busy. But, we could teach. When we taught it, they said to us "Thank you". I was very glad.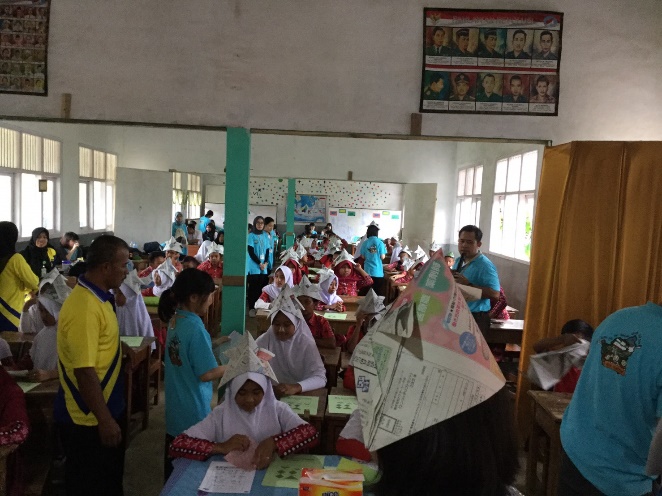 #2 Joining Indonesian traditional dance with Datarajan children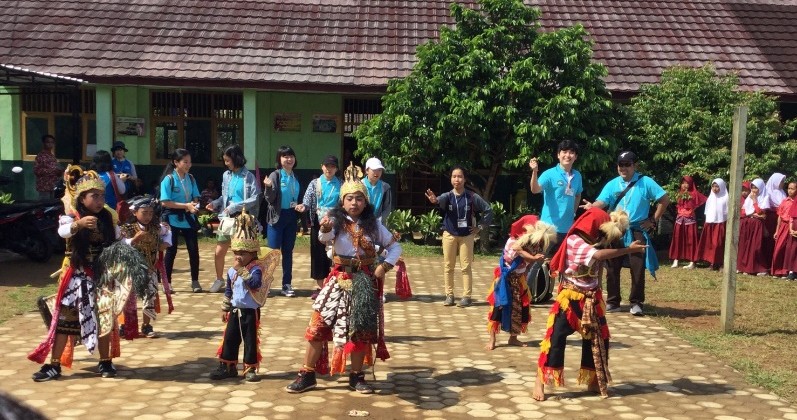 When we joining Indonesia traditional dance with Datarajan, I am so interesting. I danced somehow. Because it was difficult. Traditional costume was flashy. Across a flat horse and wear a crown and put some neckless and bracelet. In Japan, not put there. But, in Indonesia, decorate many accessories. In my opinion, I think that it is so heavy and inconvenience. But, I feel that it is so beautiful. So, this culture is very good. I want to try it. When we went to Datarajan, they dance for us. I thought that they are very kind. By knowing Indonesia traditional dance, we could connect friend ship of Japan and Indonesia. I learned that it is important for us.
#3 Shopping at Taman Mini
When I go shopping in Taman Mini, I was so interwsting. There were a lot of souvenir in Taman Mini. We can buy those. I could go to two souvenir shops. I decided to buy souvenir how matching for friend. We bought matching bags. Its price was 35,000 Rupiah (350 yen ). It was very cheap. If I buy it in Japan, maybe it will be more expensive than Indonesia. And, I bought key ring. It was written by specific pen. When I saw this, I felt that it is traditional skill. I was respect the skill. They wrote my name on key ring. It was good memory for me. I was very glad. I thought that it is very good to happy on people by traditional skill.
The Happiest Moments
#1 Talking with Datarajan Children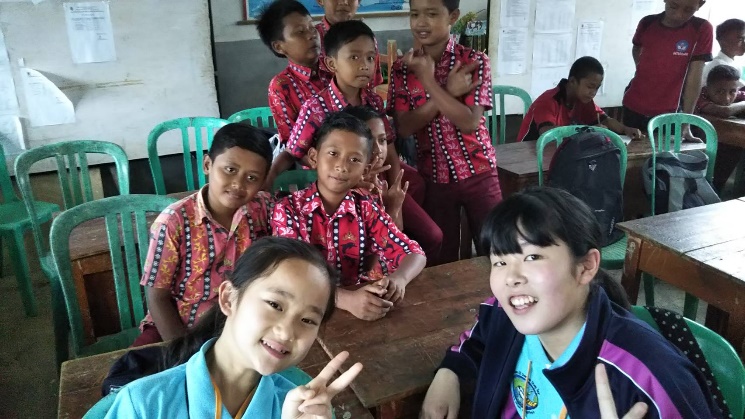 The most enjoyable moment was to talk with the Datarajan children. The Datarajan children were so cute and friendly. So, we love them. And they were kinds to us. We were glad not to get nervous. Therefore, we had a very enjoyable time.
#2 Making New Indonesian Friends
Our second happiest memory is making new Indonesian friends. We met many people in elementary school. But I didn't hear their names. Actually we teach origami, and get made bracelet, so we can make friends. At that time we are so happy.
#3 Eating Delicious Foods
We ate delicious Indonesian foods. For example, mangosteen, snakefruit, and Mie Goreng (fried noodle). My favorite food is mangosteen. Mangosteen is very sweet. I also like Mie Goreng. Mie Goreng is spicy. I like spicy food.
The Most Surprising Moments
#1 Seeing Sudden Rain  
I was surprised when I saw sudden rain. The rain was very hard. It was afternoon. At that time I was at Datarajan school. The rain fell one hour. The rain in Japan is different. It is not sudden. But the rain can be predicted by forecast.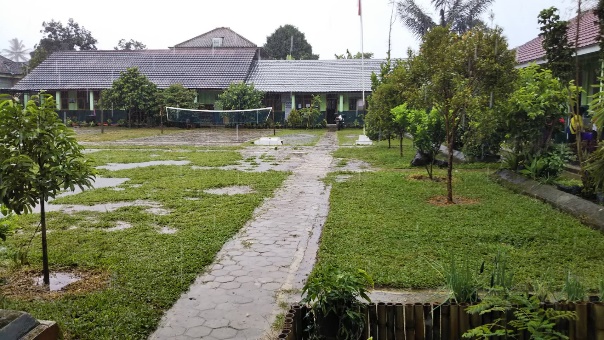 #2 The Lack of Toilet Paper
The second surprise was the lack of toilet paper. Because I was thinking they had toilet paper in Indonesia. So, I was surprised when I first saw it. And, I miss Japanese toilet.
#3 Hot and Humid Weather
Our third most surprising moment is the weather is so hot and humid than Japan. When I came to Indonesia, I was so surprised. Because it's very hot. I do not like hot weather. I like warm weather. I like spring and fall. In Indonesia there is no spring and fall.
Indonesian culture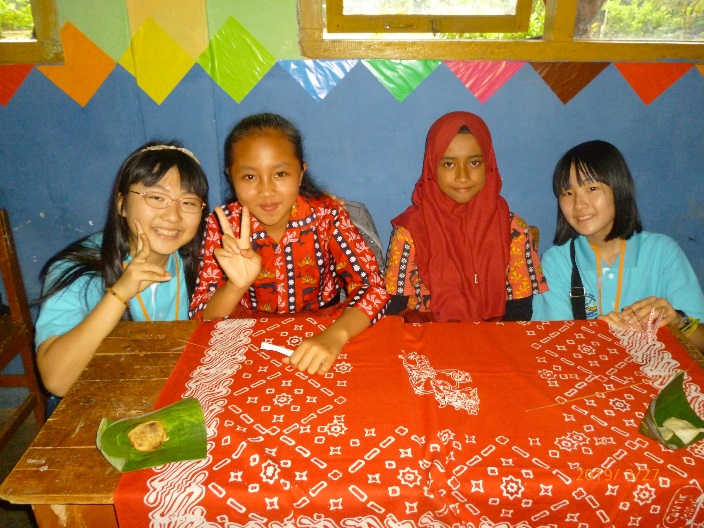 I learned to be kind Indonesian. For example, when I left my room key in my room, they said to me "it's OK. No problem". I felt that I was safe. I was thinking that "Indonesian are very scared". But, It's was different. Pour children in Datarajan don't have enough money but, they give to me a accessories. They are very hard to live, but they give to me. Then I was moved. I thought that they help each other. I learned this words "help each other". I learned that it is important for me to help each other.
Leave a comment
Related article