OST Blog – Most Interesting, Happy and Surprising Moments
Tomoha Onuma 15years old reading books and running
 Kei Ideguchi 14 years old
Yui Kawaguchi 12 years old reading books
Tomo Takano 11 years old reading books
Miwa Yamada 10 years old playing trumpet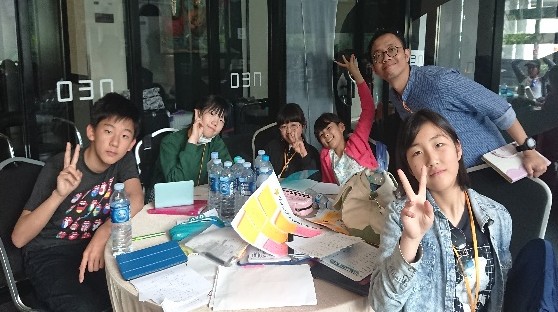 1) What are the most interesting activities and why?
Making pillows, because it was made from plastic. We thought that idea was so interesting. And they are very good for environment. We can make them easily. First, we collect plastic. Second, we tear them finely. Third, we pack them in the bag. Fourth, we cover the cloth. They are completed by these processes. So, even children can make them. They are not selling the pillow, but they only make it for school activities.
Going to the Datarajan school and playing with, kids because we could talk a lot with them. Datarajan Village is a village in the southern Sumatra and the population is around 150 people.
Going to the Komodo museum, because we have never seen Komodo Dragon. It is the Komodo museum that we enjoyed the most. Komodo was much cuter than we thought. It is 2 years old which is about ten years old in human being, just like us.
The animals were displayed in the first floor of the museum. They are real. 
But they are dead. The picture on the let is a Komodo Dragon that lived up to 35. It is 175 years old in human. We heard that and thought that the Komodo Dragon could live so long!
The Komodo Dragon in the left, we are not sure how old it is. But we thought it is 15 to 20 years old. It is smaller than the Komodo Dragon on the left. The face is a bit scary. But it is a very cute if you don't make it angry.
2) What are some happy moments?
Talking with many children in Datarajan school. Because we in talk different languages with each other. So, we don't think we could communicate a lot. But we could talk with easy words in English or Indonesian. We also played Sepak Takraw and made origami especially making kabuto and it was so pleasant. We were so happy when children in Datarajan wore kabuto made from origami.
Going shopping. Because we could go shopping with friends. There were a lot of souvenirs such as bags, pencil cases, key chains and so on. We could find a lot of new products that we could not find in Japan. Also, they were cheaper than Japanese one. So, we could buy a lot.
ntroducing about Japanese culture to children in Datarajan Village. Our group made a presentation about Calligraphy (syodou in Japanese), Yukata and Tea Ceremony (sadou in Japanese). A presentation about Yukata, got a local child to wear it, and experienced the Japanese culture. To introduce them was our happy moments.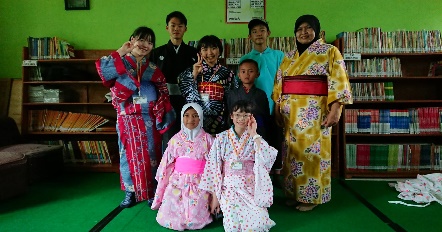 3) What are some surprising moments?
Playing with Indonesian students in Datarajan school. Although, we couldn't understand Indonesian language, but we played Sepak Takraw together. And in the end, we could make good friends with them. Also, it was the first-time experience for us to play Sepak Takraw. Because it was not famous in Japan, to play it was too difficult, but we could enjoy playing it.
We were surprised about Indonesian toilet. Because most of the restrooms in the village do not have flushing water. But airport and shopping mall have restroom with flushing water. We could not throw away toilet paper also in the toilet. We have to throw away the toilet paper which we used in the trash box. These are the differences from Japan.
We were surprised that Indonesian rice are different than Japanese. Japanese's rice is stickier, but Indonesian is not. Japanese's rice is yummier, so we like it more than Indonesian rice.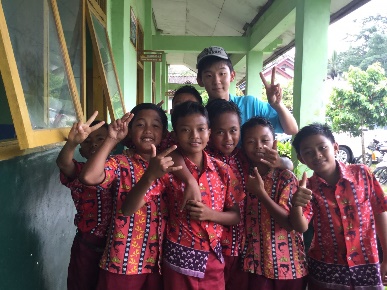 4) What did you learn about the world from joining OST?
We learned a lot from the OST journey. There are a lot of different things in the world compare to Japan. We were so surprised that there a lot of garbage in developing country such as in Indonesia. And there is more garbage in the village like Lampung. Also, we learned that countries dispute is not only countries problem. We have to understand each other. For examples differences in culture, religion, and languages.
Leave a comment
Related article