OST Blog – Do you know Indonesia?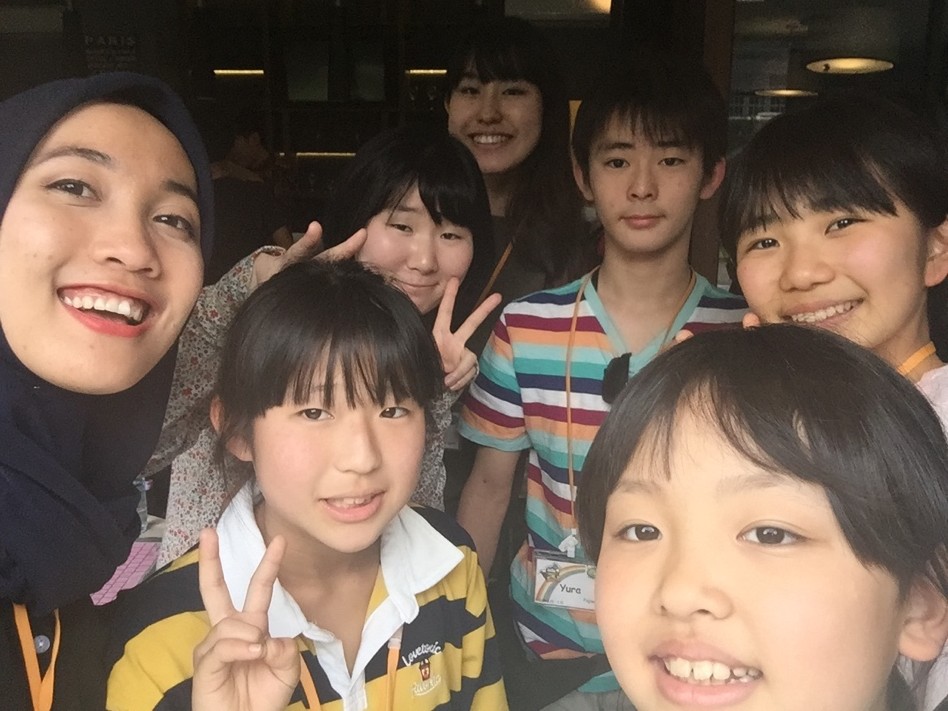 ☆Hello my name is Yura Fujiwara. I'm 12 years old. My hobby is reading books.
☆My name is Aoi. I'm 11. My hobby is doing sports.
☆Hello, my name is Wakato. I am 9 years old. My hobby is sewing.
☆Hi, my name is Sakura Kondo. I am 13 years old. My hobbies are reading books and singing
☆My name is Mayu Kawanto. I am 21 years old now. I like reading books, listening to music, singing a song, and taking pictures.
Interesting moment
Activity: Coffee farming
The interesting activity is the coffee farm called Srikandi run by women.
I tasted the coffee beans, but they were bitter. People working at the farm showed us how to process the beans. It was quite fast to grind the beans, but it took time to roast.
What I was impressed was that they harvest coffee beans by hands, and they spent the whole day to harvest. The coffee beans did not look like the roasted coffee beans. The machine to peel the beans looked interesting, so I wanted to try.
The snacks at the farm did not look delicious for the first time, but it was actually very delicious. I recommend spicy chips.
It was raining, so it was sad that we could not harvest the beans, but overall the activity was interesting. The coffee was tasty, I would like everyone to try. (Aoi, Wakoto)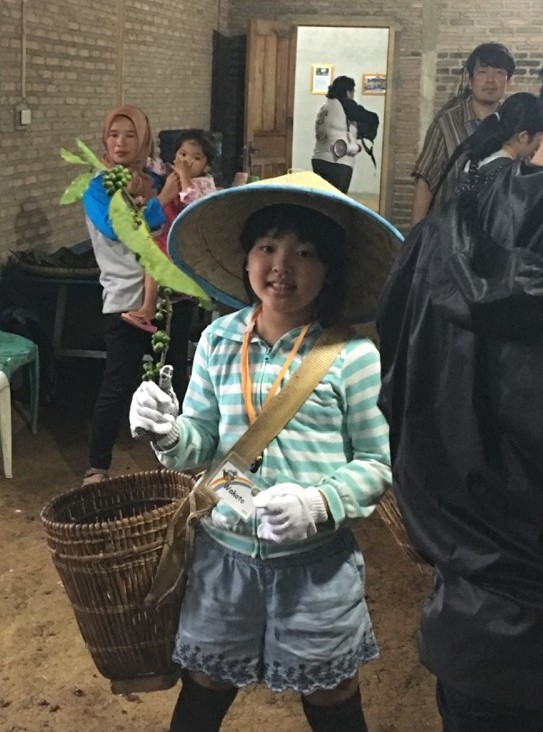 I was interesting coffee farm was so interesting. I have three reasons.
First, I could see the beautiful coffee woods in Indonesia. I was deeply moved.
Second, I ate delicious Indonesia foods. Coffee, spinach was so delicious. I bought four packs coffee. Third, I was taking a picture with little children. Many Indonesian is good person. Almost Indonesian, if I am waving hand, waved hand. Of course, coffee farm person was waving hands. I was so interesting coffee farm. (Yura)
Activity: Exchange with Datarajan 01 Elementary School
I visited Datarajan elementary school in Indonesia. At first, I am worried because I could not speak Indonesia language. Of course, Indonesian kids could not speak English. But Indonesia kids are so friendly and actively talk with me. They used gesture and tell me something I could talk with Indonesian kids a little. I learned that language is different, but I could communicate with foreigners. (Sakura)
Activity: to go to Taman Mini
There are 6 religions in Indonesia. They are Islam, Christian Protestant, Christian Catholic, Hindu, Buddha and Confucian. Indonesia is so many Muslim. But there is a mosque next to the association and people can accept each other's religion. The prayer voices heard to the hotel so, I could feel religious. It was strange that in Indonesia, depending on the island, the cultural background is different. So, there are many beautiful clothes and different houses. The different clothes used to traditional dance and wedding. I think interesting to build a house on tree and climb a tree branch up to a house. But I don't want to live there. (Mayu)
Happy moment
Activity: Shopping at Taman Mini
My happy moment is to buy Batik cover and to eat mango ice cream. What is Batik? It is used to be used only in Imperial Palace and some nobles, world intangible cultural heritage. I want to buy it before, so I am happy. Prices are cheap in Indonesia, mango ice cream is 80 yen and it was so delicious (Mayu)
Shopping is also my happy moment. In Indonesia everything is so cheap. And many kind of souvenirs, I bought same bags with my friends. It is so cute. I enjoyed shopping (Sakura)
Activity: eating Indonesian food
My happy moment is eating breakfast, lunch and dinner. Almost all Indonesian food are spicy. I like spicy food. I dring spicy soup for the first time in dinner in Indonesia. Indoensia food for example Mi Goreng, Nasi Goreng, Snakefruits, Mangosteen, Kopiko candy, Minto candy. These are so delicious. I was so happy. (Yura)
Planting Longan tree for the first time
I went to datarajan shool. In Datarajan I plant the tree called Longan. The scops was weird so it was very hard. The soil couldn't separate from scop, so it was hard to seprated from scop. And the scop was so heavy for me so it was hard. On the spot, the Datarajan children looks very easy it was awesome. But I thought I could help a little bit to plant a tree. I wanted to help a little so I was happy to plant Longan. (Wakoto)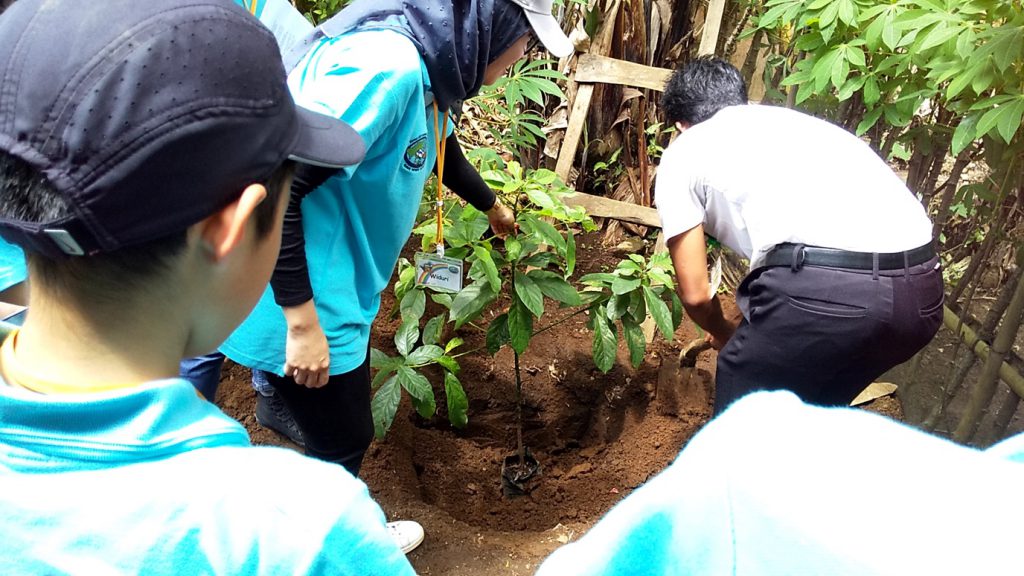 presentation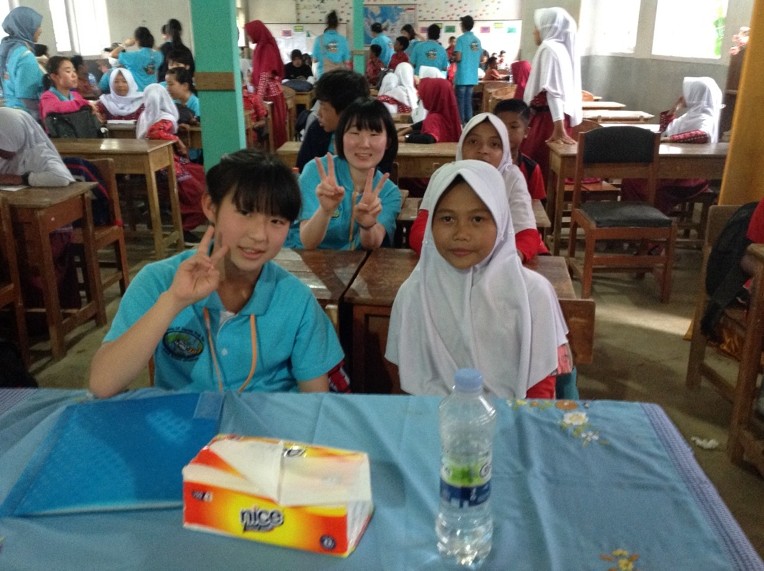 My school environmental presentation was finished. I was struggling about computer. When I typed articles in the beginning, But mayu typed my Japanese article change English articles and cute illustration save my presentation. I worked very hard presentation because mayu worked for team. I was very nervous before presentation but I sis my best. When presentation was finished, I was very happy and relieved. (Aoi)
Surprising Moment
Activity: visiting coffee farm
In Indonesia coffee is famous. And in the forest, there are elephant and bears. They are protected in National Park. But coffee farmer cut the forest in there in order to plant coffee. So the forest are decrease. So, WWF put an effort to protect the nature. For example, to teach the person who promise not to cut forest how to make effectively plant coffee in a sustainable way. Until WWF education, man grow coffee and women do house work and raising children. So they could only earn 160 yean for 1 kg coffee beans. They wanted to grow many coffee in the national nature park. But, after WWF education, women can finish coffee product so they can earn 750 yean for 1 kg coffee powder. These women are called Srikandi. That means female fighter. Since 2012, the WWF education started and the workers were 18 and now 201 workers.
What are the process behind a cup of coffee?
Coffee flower is white and to be the fruit of yellow. When the fruit turns red, the farmer harvest it and grind with a machine. It has no smell and taste bitter. After drying for one week Srikandi make it into powder. The fresh powder is soft and smells good. In Lampung, the coffee beans called Robusta is famous, and it grows in 800 meters above the sea level. That character is so bitter. (Mayu)
Indonesians are friendly
My surprising moment is many Indonesian have nice smile. I was smile for Indonesian kids and they laugh at me. Indonesians are so friendly. They teach me make bracelet from bamboo and give me nice bracelet and smile. They are nice people. I like Indonesian. (Yura)
DuAnyam workshop
DuAnyam is a social enterprise in Indonesia. There are many programs for women in Florest. Indonesians have to work in the day, even pregnant woman… Women walk for 17 km to go to the health clinic. So Hanna, made this company to help pregnant women. When I listen to Hanna's speech, I was very surprised, because every day, in Indonesia many pregnant women are dying. I know that I want to help these women, so I bought DuAnyam product and I will tell friend about DuAnyam. (Sakura)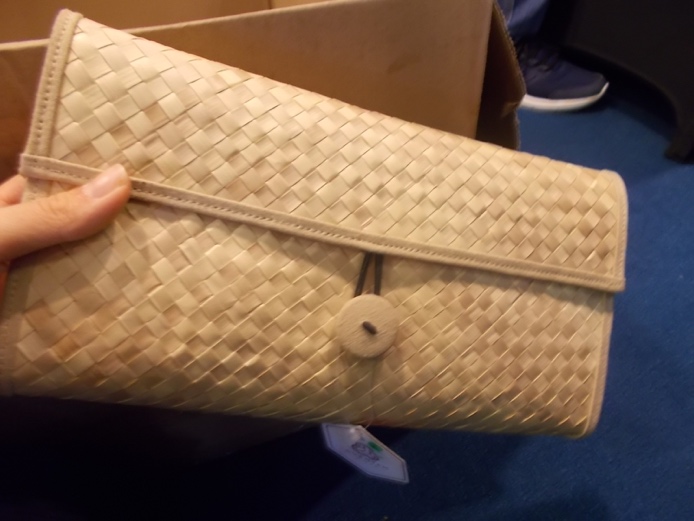 Indonesia Toilet
I was surprised about Indonesia's toilet in Datarajan School. They were traditional like Japanese tradition toilets. Some toilets have the rule not to flush toilet paper. The toilet I used in Indonesia almost Japanese style toilets. But the floor was wet and slippery. When I flush, I have to put the water in the bucket and it was difficult. I saw Japanese toilet is more convenient.  (Wakoto)
I was surprised with Indonesia's toilet. Indonesia's toilet different from Japanese. Toilet looks like insect. Depend on place toilet don't flush paper. Toilet paper core is bigger than japan. I think it's interesting to see tilet all over the world after I saw Indonesia toilet.  (Aoi)
What I learn
I learned two things from Indonesia. One is Indonesian School. I learned paper recycle activity. I also learned how to make pillow from plastic.
I was surprised that it was like pillows. I learn that we could recycle the plastic. If I had a time, I want to make a pillow with plastic. Two is from Misa's presentation. I learned about it is important to go to outside and communicate with other people. I thought Misa's presentation was very good. (Wakoto)
Smiling is the universal language
I thought Indonesia is similar to Japan before the trip. Because Indonesia has many islands and many language like Kansai Ben in Japan. But there are no seasons and so many religions food is different too. There are many spicy food and sweet food. I don't understand Indonesian language, but when I am smile, they are smile too. English is useful but smiling is incredible. In this trip I made many great people, so I think I study English harder. I feel I am ignorant so I think I should check world news and work hard to be a nurse and I want to think what I can do. (Mayu)
Joining overseas trip, I learned about indonesia. On the whole, Indonesian is kind and friendly.
If I waved hand, They waved hand for me.
Indonesia has 17000 islands. Main islands are java islands, Sumatra island,Borneo, pulao Sulawesi. Indonesia foods are so delicious almost food is spicy. But not spicy coffee is tasty. I like coffee with little sugar. Meeting with Indonesian, I thought I have to learn about other countries I want to understand foreigners, foods, and religions.  (Yura)

In the trip, I notice that to tell my opinion is important. At first, I couldn't talk with many people in English because I was shy. But to tell my opinion is not embarrassing. Rather I have to talk with friends what I thought after OST I continue study English and I want to communicate any other people. (Sakura)
 Among the things I learned Indonesia the most important one is gender equality is important. Because in the workshop explained. Pregnant women don't have jobs to get cash, but Hanna thought about those women and created DuAnyam. Hearing this, I thought everybody should be equal.  (Aoi)
Leave a comment
Related article