Message from Shige
(English is available below)
イマージョン活動に参加、協力いただいてきた皆さま、
私 Shige OGURA は、1月末をもって5年間の Global Network Team の仕事を終え、KUMONの海外法人をサポートする業務に就きます。
そして、2月からは Mr. Matsuhara が皆さんを直接応援します。
…今、5年間を振り返ってみても、
私たちは英語のレベルで子どもたちを見ることはありませんでした。
各プログラム開始直後は、参加者のほとんどが不安を抱えていることが普通なのですが、そんな子どもたちが未知の国から来たリーダーたちと仲良くなり、
多少英語を間違っても気にしない気持ちの準備ができて、何かを「伝えたい」という心が育つことを祈ってイマージョン活動は実施されてきました。
…数時間、数日のイマージョン活動参加で急に英語が上手くなるわけではないので、それを求めるのではなく、その後何年も続く成長の過程で心と技を伸ばし続けられるようなエンジンをイマージョン活動で手に入れてくれればと願ってきました。
…大変申し訳なかったのですが、
保護者の皆さまにはイマージョン活動の場を直に見学していただけないことが多かったと思います。大人はどうしても「他人との比較」や「英語が上手く話せているか」に関心が行ってしまい、果たして子どもたちの心が前に向かって進んでいるかを見落としがちです。
例えば、たまたま同じグループの他の子どもたちがよくしゃべるような状況があったとすると、親としては何とかしたくて口を出してしまうんですよね…私も親なのでわかるんです。
「(保護者の方がいないところで)一人でどこまでできるかやってみましょう」とお願いしていたのは、なによりも、子どもたちにはそこでしか体験できない世界に没頭してほしかったのです。
…参加してくれた皆さんへ、イマージョンのあの場がきっかけとなり、世界を意識しながら成長してくれていたら、とてもうれしいです。
そして、子どもたちの前に進む心を生み、「周りの大人」の協力・応援をいただけた最大の理由がさまざまな国や地域出身のリーダーの皆さんです。ありがとう。あなたたちの存在のおかげでイマージョン活動は素晴らしいものであり続けました。
これからもイマージョン活動が皆さんの成長のサポートであることを祈っています。
To all of you who have participated in and supported our immersion activities, I, Shige OGURA, will finish my assignments of Global Network Team (GNT) at the end of January, I have been recently assigned to support KUMON's overseas corporationsAnd from February, Mr. Matsuhara will be my successor.
… Looking back on the five years that I have been with GNT, We have never looked at children's English level, but rather, immediately at the start of each program, most of the participants are usually anxious, such children became friends with leaders from unfamiliar countries, and feel that they don't mind if they make a slight mistake in English. Immersion activities have been carried out in the hope that participant will be ready and develop a desire to "express" something.
… Immersion activities, whether held by hours or number of days, does not suddenly improve participants English, so we hope that immersion activities are "engines" That will allow you to continue to develop your ability and skills in the process of growth that will continue for many years.
… I apologizes that parents and guardians often did not have a chance to observe the immersion activities. Adults are unavoidably interested in "comparison with others" and "whether their child can speak English well". It is easy to overlook whether children's hearts are moving forward. For example, if you happen to have a situation where other children in the same group talks more than others, as a parent, I want to do something about it, or have an urge to say something … I'm also a parent, so I understand. So we requested parents' cooperation, "Let's see how much children can do on their own (where there are no parents)". Above all, we wanted the children to immerse themselves in a world that can only be experienced through our activities.
… To everyone who participated in the place of immersion was an opportunity, I would be very happy if you could grow while being aware of the world. And the biggest reason for the cooperation and support of "adults surrounding you" is the leaders from various countries and regions, Thank you.
Thanks to your presence, immersion activities have thrive to be wonderful.
We hope that immersion activities will continue to support your growth.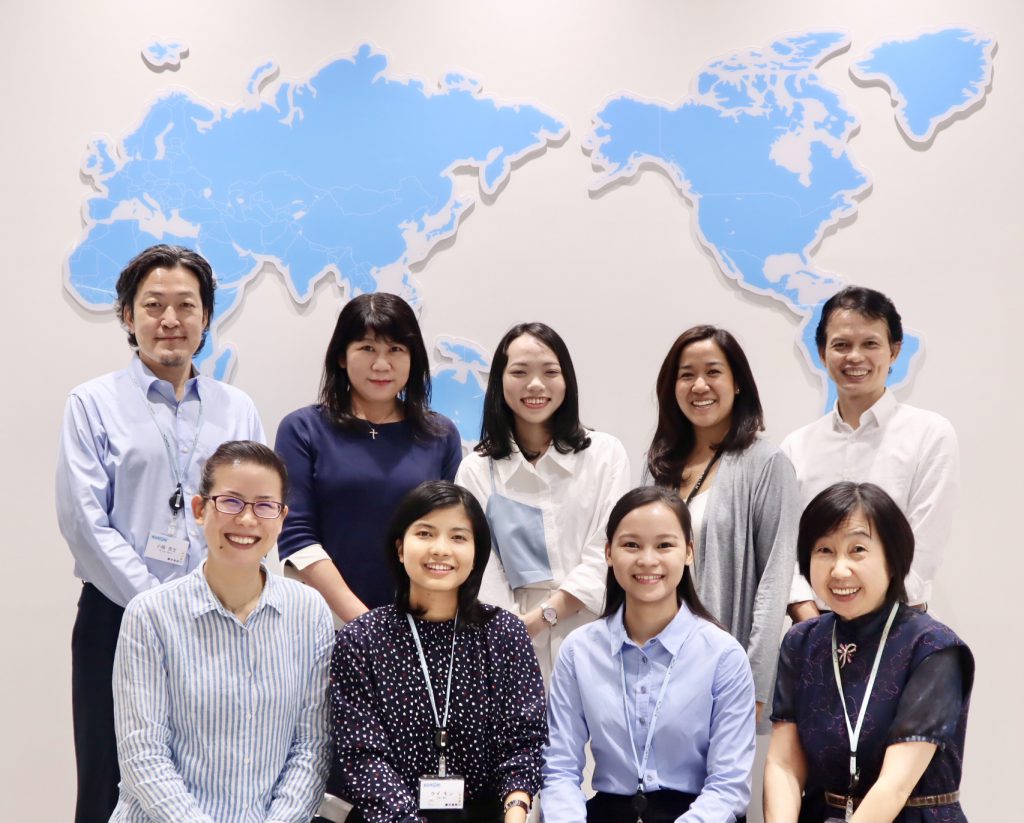 Leave a comment
Related article