Virtual Cooking Tour (Indonesia & Myanmar)
Hello. All EIC members! 😊
This is Satowa (EIC2012) from EIC café.
Do you know about EIC cafe?
If you are interested in EIC cafe, please check our website so that you can know what did we do in EIC cafe (HERE)!
In this time, I'd like to share about the cooking virtual tour 2!
EIC cafe have started this new online event because we cannot go abroad to visit many beautiful places in the world because of Covid-19. However, through this cooking virtual tour, we can travel virtually to many countries and eat the local food with other EIC families.
We've planned to have 4 sessions during this summer and all session have finished.
Asuka also wrote the blog about the first half of 4 sessions. Here! ↓
( Virtual Cooking Tour (Thailand&Vietnam) | Blog | Kumon English Immersion Activities (kumon-eia.com)
So, I'd like to have last 2 sessions.
During the second half of these sessions, we travelled virtually to Indonesia and Myanmar!!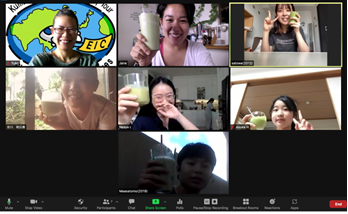 At the Indonesia session, we made avocado smoothie with Nesya.
It's easy to make. We prepare avocado, ice cubes, sweetener and put all ingredients in mixer!
Nesya' recommendation is adding little black coffee if you like bitter taste.
This is the picture of the smoothie. It looks good, right? 
It's easy to make, so I made it for my breakfast after this session.
And we enjoyed talking with this nice smoothie!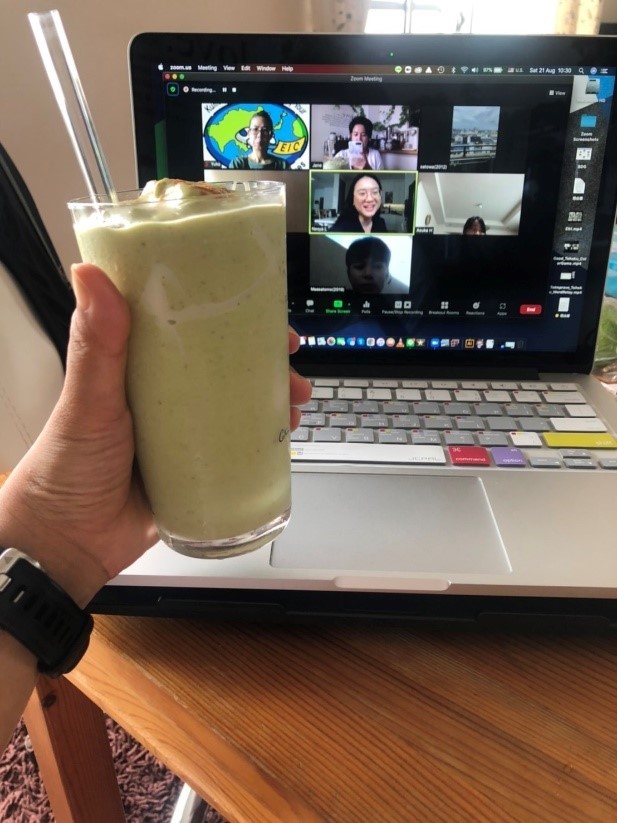 And we travelled virtually to Myanmar, too!! In the Myanmar session, we made chicken potato se-pyan! It goes well with rice! This meal is called "nikujaga" in Myanmar! We used potatoes and chicken breasts mainly and added some spices. Its smell was so good with masala! It looked red so some people may guess it is spicy, but it isn't! We use chili powder just for color, so it was not too spicy 😊 you could enjoy this meal if you don't like spicy foods!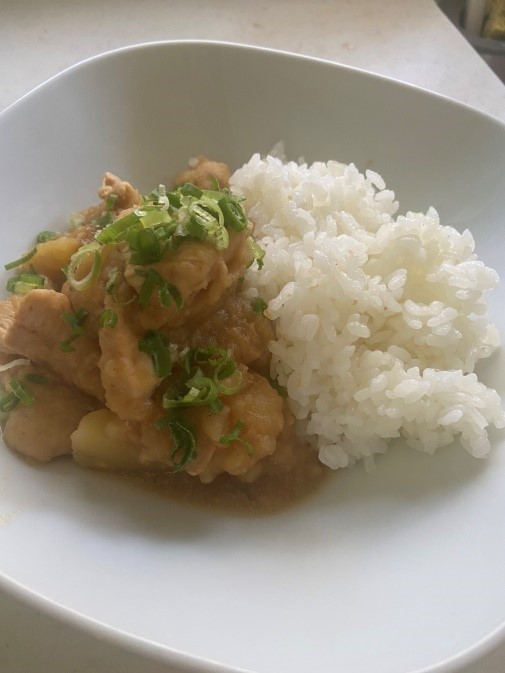 I add a video in this blog. If you want to cook these foods, please watch videos or comment any questions!
And last, I'd like to share some comments from participants!
どれも美味しかった/ヤムウンセンは思っていたより簡単で、祖父母にも作ってあげたいと思った/アボカドスムージーはとても簡単で、翌日もすぐ作った/チェッタアルヒンは少し難しかったけど珍しい味で、新しい料理を覚えられてよかった
楽しかった、インドネシアの事、沖縄の事もよく知る事が出来、面白かった。チャンプルがインドネシア語というのも面白かった。
In this event, we really enjoyed talking about foreign food culture and our Japanese food culture! Thank you for joining our events!!
It was our first-time challenge that we cook some dishes in events so, we were worried about the new event. However, thanks to Camp leaders and participants, we could have nice time in all sessions.
Thank you so much reading our blog!
Have a nice day😉
Leave a comment
Related article