Virtual Cooking Tour
Hi EIC family! This is Satowa from EIC cafe and I joined EIC in 2012.
How are you doing these days? Do you enjoy your school, hobbies and so on?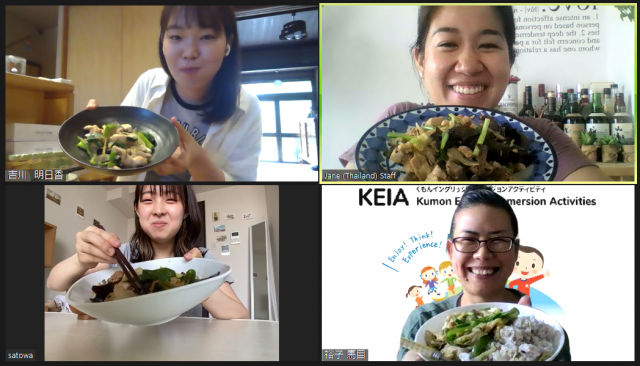 I enjoyed cooking with Yuko, Jane and Asuka! Jane taught us how to cook foods from Thailand.
We made 2 dishes. These are Gai Pad Khing and Kanom Pang Na Goong!
I attached a YouTube video, so if you are interested in it please watch the video!
You could see how we enjoyed cooking 🍳
Gai Pad Khing is chicken and vegetable stir fry! We use a lot of ginger and I like it! I recommend you add more ginger for your meal 🙂
Kanom Pang Na Goong is shrimp fried bread. We eat it with sweet chili sauce. It's such a nice combination! Actually I ate too much! Haha!
Can you guess who cooked which dish? HAHA
Not only cooking, but we also talked about food culture in Thailand. Now I knew sweet chili sauce is same as Japanese "otahuku sauce". In Thailand, these meals can we eaten at the market as snacks. It's interesting to know different country's culture. In Japan, I go to market only on festival days, so I'd like to go there when I visit Thailand!

Thank you Jane for teaching us 🙂
You can see our video, HERE! Click on the picture ↓↓↓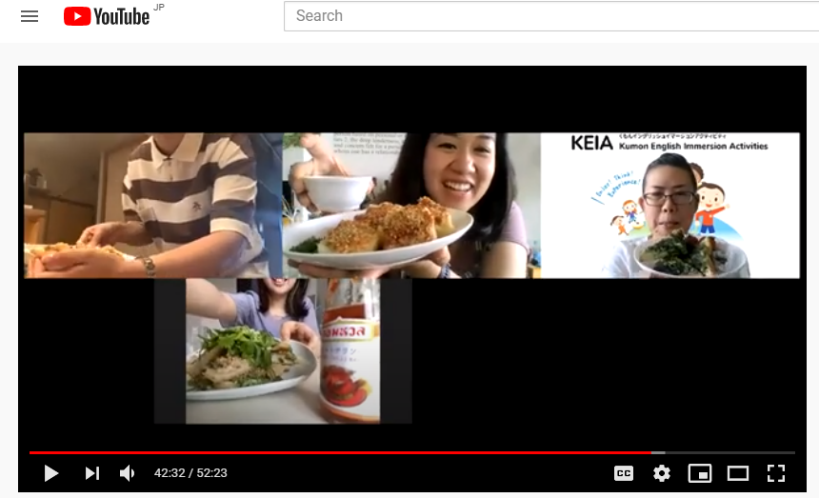 PLEASE JOIN US!
Since we had such a very good time we plan to have this for everyone to experience so we plan to have the virtual cooking tour please read more about it here!
We will have the sessions 4 times, on Saturday, 10:00-11:30
-31 July, Thailand
-7 August, Vietnam
-21 August, Indonesia
-28 August, Myanmar
Please join us, you can apply here!
Leave a comment
Related article