EIC CAFE@KANSAI – First activity for 2019
EIC CAFE @ KANSAI Activity
Hello everyone,
My name is Satowa Fukuda (EIC 2012).
I just started joining EIC Cafe @ Kansai from this year and became one of the few new members of EIC Cafe @ KANSAI.
We held our first activity this year 2019 on 20 April.

What did we do?
As a start we went for a lunch and ate Singapore food in Umeda and it was yummy:) !!!
It was not only about eating Singaporean food but we got to know about the food background and also about the country from Maza (GNT staff) who joined us this time.
I really enjoyed talking with friends and eating lunch.
There were 8 members: Asuka, Momoka, Suzuno, Yui, Yuka, Yuko, Maza and I.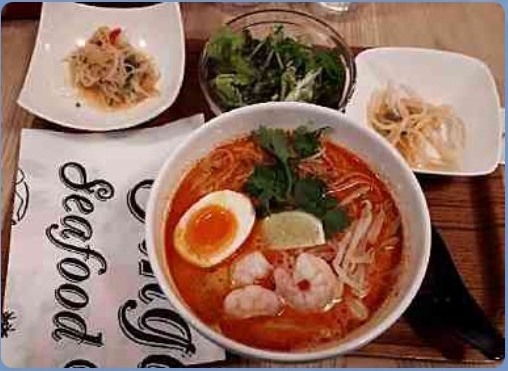 Besides that we also introduced ourselves and talked about EIC cafe's event that we want to do next time.
There were ideas like…
EFD (English Festival Day) EIC Cafe@KANSAI has been doing for the past 4th times.
Eat lunch with different people from different culture or faith, and learn about their culture through food.
Collect plastic bottle cap
Speech contest
and so on.
I haven't seen EIC family since 2017 (15th Anniversary), so I was glad to see them.
But, I think EIC cafe needs more energy. I think it's because there were few participants.
I thought EIC cafe had many participants like APN (now GNI). So I was a little shocked.
If we want to do events, we could not do without participants.
So we need more members!
Please join us!!!!
We will send more information by email, please wait.
You not only can get new friends and enjoy talking!
But you can also suggest and make event or activity you want to.
EIC cafe's members are so kind that I could join them for the first time in seven years.
If you want to join as a cafe member please contact GNT office
Email: english.camp@kumon.co.jp
Don't be afraid Of making mistakes. Let's try communicating in English!
Leave a comment
Related article