Join EIC 20th Anniversary
Collecting Video messages
We are now collecting videos from EIC CLs, Staff & OBOG!
Please join us by sending in a video of yourself talking about the below 5 points!
EIC Family members are all excited to hear from you. 😆 Video message contents 💡
Self-introduction
What are you doing now?
What do you remember about EIC?
What are your goals or dreams?
Message to EIC family (Things you would like to challenge or try with EIC family)
We will be sharing your video messages on EIC 20th Anniversary webpage.
Filming together with other past EIC CLs, Staff & OBOG or recordings of video calls are OK too!
We look forward to receive lots of video messages from you all! 😉
NEW! Message board Messages from EIC Family!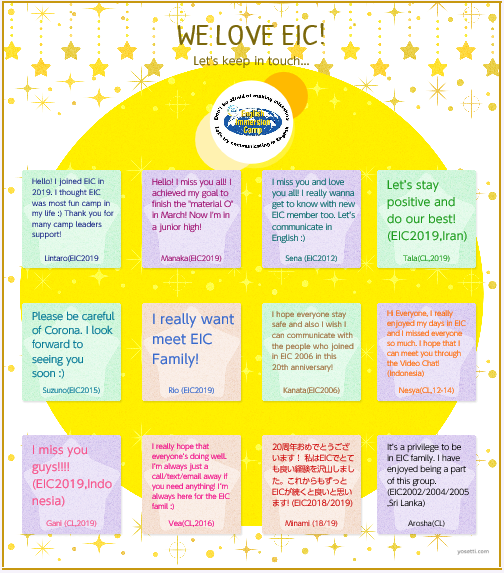 We are waiting for messages from EIC OBOG (participants, camp leaders, staff)!
Note :idea:Please include the year of EIC participation next to your name (nickname) or in the text.
Example)*Taro(EIC20○○)/ *I joined EIC in 20○○ etc.
There is a limit to the number of characters, so if you can't put it, just ○○ is OK!
※The message board is an external site.
Traveling Around the World online
Every month we will travel around the world with EIC Camp Leaders! Let's wonder about the world!
December's theme is World Festival!
Please watch all Vol1 ~ Vol.3 and join in this Online Session!
Date & time: December 20th (Sun) 10:00~11:00
(Depends on the number of participants, the session might start a bit earlier or end a bit later than planned.)
Place:A space with Internet access
※We will record the Online Session in order to introduce about this event through our EIC 20th Anniversary webpage or GNT Annual Report.
EIC Video Chat
Let's gather with friends who joined EIC in the same year! 😀
Would you like to meet and talk with friends, Camp Leaders, and Staff that you spent time with at EIC? It is okay to join later or leave early!! And if you want to talk more, we can extend the call time. We hope that many friends will join us in EIC Video Chat!
Video Chat Schedule
EIC2010
Date and Time: 07/19(日)16:00-17:00
Apply by:07/15(Wed)
EIC2019
Date and Time: 08/30(日)11:00-12:00
Apply by:08/21(Fri)
EIC2009 / 2008
Date and Time: 08/30(日)16:00-17:00
Apply by:08/21(Fri)
EIC2018
Date and Time: 09/27(日)11:00-12:00
Apply by:09/18(Fri)
EIC2004 / 2003
Date and Time: 09/27(日) 16:00-17:00
Apply by:09/18(Fri)
EIC2017
Date and Time: 10/11(日) 11:00-12:00
Apply by:10/02(Fri)
EIC2007 / 2006
Date and Time: 10/11(日) 16:00-17:00
Apply by:10/02(Fri)
EIC2016
Date and Time: 11/08(日) 11:00-12:00
Apply by:10/30(Fri)
EIC2002 /2001
Date and Time: 11/08(日) 16:00-17:00
Apply by:10/30(Fri)
EIC2014
Date and Time: 12/13(日) 11:00-12:00
Apply by:12/04(Fri)
EIC2005 /2011
Date and Time: 12/13(日) 16:00-17:00
Apply by:12/04(Fri)
EIC2015
Date and Time: 01/31(日) 16:00-17:00
Apply by:01/22(Fri)
EIC2012
Date and Time: 02/28(日) 11:00-12:00
Apply by:02/19(Fri)
EIC2013
Date and Time: 02/28(日) 16:00-17:00
Apply by:02/19(Fri)